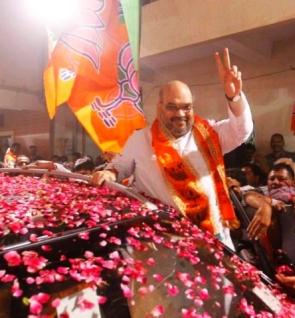 Union Steel Minister Beni Prasad Verma on Saturday alleged that the rallies addressed by Samajwadi Party supremo Mulayam Singh Yadav and Bharatiya Janata Party's prime ministerial nominee Narendra Modi in Uttar Pradesh were "fixed", adding that speeches of both the leaders were scripted by Amit Shah.
"Shah is playing the role of mediator, that is why he has been brought to Uttar Pradesh (as in-charge of the BJP's state unit)," Verma said, adding, "The speech of both Yadav and Modi for their rallies were written by Shah."
"They both seemed to like having a debate from their respective stages in Varanasi and Gorakhpur recently," Verma said at a press conference.
Three recent rallies of Yadav and Modi coincided on the same day to show that the electoral fight is between these two, but the people who were the real referee would punish both, Verma said.
He alleged that this "understanding between the SP and BJP" is very old.
Why did, asked Beni, "Mulayam rename the Tedhi Bazar police station in Ayodhya in 1990 as Janmbhoomi thana" or why Yadav's officials submitted an affidavit in the Supreme Court giving a clean chit to BJP leader L K Advani, he asked.
"After the Godhra riots, why did SP field Muslim candidates in Gujarat," he asked, adding Advani, in his autobiography "My Country My Life", had thanked Yadav for his advice which had brought his party to power at the Centre.
Stressing that no section of the society in Uttar Pradesh was happy with the SP government as it was "befooling everyone", Verma alleged that it was now aiming to bring together Brahmins and Muslims by distributing lollypops (ministerial berths) in view of the upcoming election.
"The Congress will get 50 seats, BJP would not cross 10 and SP might not open its account in the state in the coming Lok Sabha elections," Verma said, adding his party would field its candidates on all 80 seats, including Mainpuri and Kannauj (represented by Yadav and his daughter-in-law Dimple).
Verma claimed the SP supremo wanted to see the end of Congress as he "wants relief from the cases by the Central Bureau of Investigation against him".
To a question on Congress vice president Rahul Gandhi facing opposition during a recent visit to his Amethi constituency, Verma asked, "How can there be democracy without opposition?"