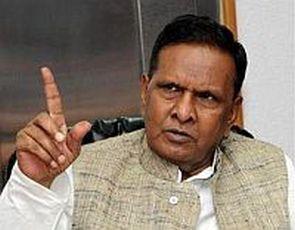 In a veiled retaliatory attack on the Bharatiya Janata Party's prime ministerial candidate Narendra Modi for his 'khooni panja' (killer paw) remarks, Congress leader Beni Prasad Verma today said the country has to be saved from a 'khooni insaan' (murderous person).
Without naming Modi, Verma said while the Election Commission is looking into the remarks made by the BJP's prime ministerial candidate, "there is a need to save the country from a murderous person."
The Union minister was asked whether Modi's remarks were correct.
Modi had, in a November 7 speech at a rally in Rajnandgaon (Chhattisgarh), asked the people if they wanted to vote for a 'khooni panja', an apparent reference to Congress election symbol.
Congress spokesman Abhishek Singhvi said there was no question of defending Verma's remarks as "two wrongs can never make a right".
Alleging that three years of Congress rule in the state were marked by misery, the BJP star campaigner had claimed "Raman Singh saved Chhattisgarh from this cruel hand".
The EC has already issued a notice to Modi asking him to explain his remarks after Congress approached the poll panel on the issue.