'It is your government and you are running away from the people. Women's security is a big issue and one shouldn't delay in taking action.
Allegations fly high against the Delhi chief minister, as the split in the Aam Aadmi Party widens. Rediff.com's Manu Shankar reports from New Delhi.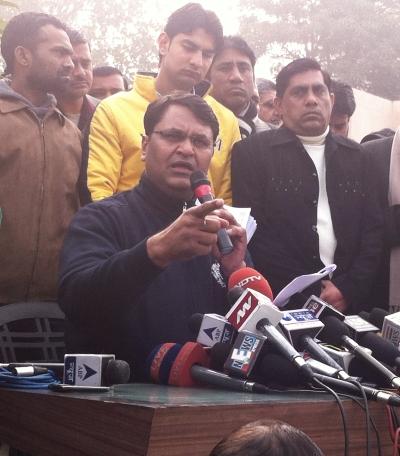 Launching a scathing attack on Delhi Chief Minister Arvind Kejriwal, the Aam Aadmi Party's rebel Member of the Legislative Assembly Vinod Kumar Binny alleged that the government is deviating from its principles, which helped the AAP win 28 seats in last month's assembly election.

"We had announced publicly that we wouldn't give or take support of any political party. Then, what prompted the party to change its decision?" Binny asked.

"The AAP was not formed to grab attention. That is why I'm saying there is a big mismatch between what the party had promised and what the government is doing," he added.

Terming the party as an opportunist outfit, the legislator from Delhi's Laxmi Nagar constituency alleged, "They are using the policy of use and throw. First, they used Anna Hazare, Kiran Bedi and now many in the party are being exploited."

"It is unfair on all the party workers who have given their all to build the party -- they have been given a raw deal," he added.

"Look at the candidates contesting for the Lok Sabha seats in Delhi; all of it was pre-decided. It was decided where Gopal Rai would contest from or from where Kumar Vishwas or Ashish Talwar will contest."

"So why have all this drama that it (the list of candidates) will be finalised only after signatures of party members. Is this not a fraud, is this not cheating the public?" Binny asked.

"Today Kumar Vishwas is campaigning in Amethi. Now, what is he doing there when his name has not even been announced as a candidate?"

Terming Kejriwal a dictator, the 39-year-old MLA alleged that the chief minister gets angry with people who don't agree with him. "He gets angry if someone expresses their disagreement over an issue. If anyone speaks against him, he starts shouting."

Kejriwal had said Binny's dissent was because he was not made a minister.
"Arvindbhai says I am a liar and I had demanded a party ticket. Let me tell you that my name was there on that list, which went to the lieutenant governor. But I declined to take up a post in the government."

Binny also attacked senior journalist Ashutosh, who recently joined the AAP.
"The other day Ashutosh said there is no place for opportunist people in the party. He joined the party after we came to power. But I joined the AAP when it was being formed. Whom would you bill as an opportunist?" he asked the media.

Attacking the AAP government's policy of providing 700 litres of free water, Binny said, "The government talks of subsidy for those whose monthly consumption does not exceed 400 units. Why give subsidies only for a few? Give 700 litres of water on an unconditional basis."

The MLA said he would stage a dharna if the promises made to the people during the AAP's election campaign were not fulfilled by January 27.

Binny also criticised the government for delaying the Jan Lokpal Bill. "The AAP had promised to bring the Jan Lokpal Bill within 14 days of coming to power. The party came to power on December 28. Today, it has been 19 days," he added.
Binny slammed Kejriwal for a delayed response to the gang-rape of a Danish woman in the capital. Two people have been arrested in connection with the case.
"Arvindbhai should have spoken to the police commissioner and ordered immediate action."

"It is your government and you are running away from the people. Women's security is a big issue and one shouldn't delay in taking action," Binny said.

"Water and power issues can wait," the MLA felt, "but we can't compromise on women security."

Image: AAP MLA Vinod Kumar Binny goes public with his grievances against Delhi Chief Minister Arvind Kejriwal. Photograph: Manu Shankar/Rediff.com