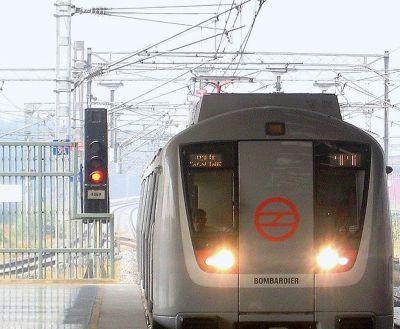 Commuters were hit hard for the second day on Tuesday due to Chief Minister Arvind Kejriwal's dharna in the heart of the capital with authorities shutting down four metro stations and buses being diverted.
Four Metro stations -- Patel Chowk, Central Secretariat, Udyog Bhavan and Race Course -- remained closed from 6 am after a late night direction from the Delhi Police to the Delhi Metro Rail Corporation.
Even the interchange at Central Secretariat was closed.
Trains on Line 6 coming from Badarpur to Central Secretariat terminated at Khan Market metro station. This arrangement will be in place till further directions, a DMRC official said.
The commuters, who work in the Central Secretariat area (Shastri Bhavan, Rail Bhavan, Parliament, North and South Block), were worst hit because of this.
To add to their woes, Delhi Transport Corporation buses were diverted forcing office goers to walk long distances.
"We alighted at the Khan Market Station and walked for about four kilometers. There were many who people who found it difficult to make it to office," said a senior government official working in the North Block.
Kejriwal blamed Home Minister Sushilkumar Shinde for the hardship being faced by the people.
"Shinde has closed the metro stations. I had told metro officials to run the service. They said they cannot do it as Delhi Police has closed them. Shinde is causing inconvenience not only to us but also to the general public. He has closed the metro stations," he said.
On the directions of the Delhi Police, the four metro stations were closed yesterday from 9 am onward. Later, Patel Chowk and Race Course Metro stations were opened at 2:14 pm.
The entry and exit to the Central Secretariat and Udyog Bhawan metro stations remain closed as directed by the Delhi Police.
Image for representational purpose only