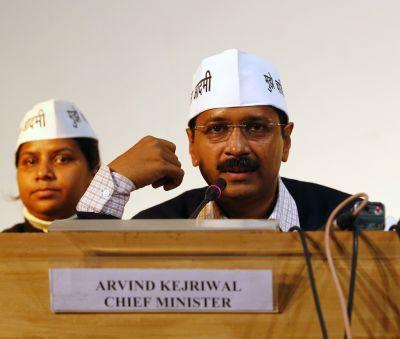 Delhi Chief Minister Arvind Kejriwal on Sunday sought ten days time to formulate a system to address grievances and problems of the people in Delhi.
He said that he would accept the applications of the people visiting him only after a system is in place.
"I don't want to give you false assurances. I will take the application when we put a system in place to resolve the problems," he said.
He assured the visitors, who gathered in large numbers at his residence, that he needed the support of the people to establish such a system and without their backing, he would not be able resolve issues.
"We have just assumed power. It will take us sometime, seven to ten days to put a system in place to resolve your problems," he said, addressing a gathering which included Delhi Transport Corporation employees and people from the Valmiki community.
Contractual employees of DTC and muncipal corporations had come to put forward their demand to end the contract system in these bodies. They also wanted that those working for several years should be made permanent.
"About 14,000 drivers and conductors have been hired on contractual basis by DTC. We have been working on contractual basis for around 10 years. Despite after such long service, DTC has still not made us permanent," said Ramesh, a DTC driver.
Despite a number of drivers and conductors gathered outside Kejriwal's house, Suresh, a bus conductor, said the DTC service across Delhi would not be affected as only a section of the DTC staff had come to visit the Delhi CM.
"Kejriwal during elections promised that he would finish "Thekari Pratha" (contractual service) in Delhi after becoming Chief Minister. We are very hopeful that Kejriwal would direct DTC to make us permanent," said Deshpal, a driver.
Image: Delhi CM Arvind Kejriwal
Photograph: Anindito Mukherjee/Reuters