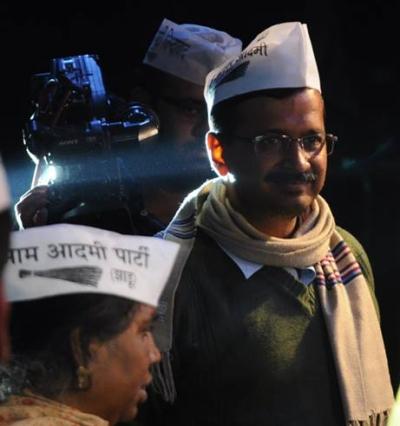 Even as Delhi Chief Minister Arvind Kejriwal remains adamant about not moving his AAP agitation to Jantar Mantar from Rail Bhawan over a demand for the suspension of 'errant' policemen and full control over the Delhi Police, the Supreme Court on Tuesday agreed to hear a public interest litigation filed against the agitation.
The PIL says Kejriwal has gone against the law while Section 144 is in place in Central Delhi.
The petition also points out that Bharti tried to take the law in his own hands by conducting a midnight raid in Khirki village.
The Kejriwal-led AAP protest entered its second day on Tuesday, and neither of the two major political parties-the Congress and the Bharatiya Janata Party-are in favour of its continuance.
Congress leader Bhakta Charan Das criticised Kejriwal and his AAP ministers, saying that they aren't thinking about people's inconvenience while protesting.
He also accused the AAP leaders of having an aggressive mindset that was as dangerous as that of a terrorist.
BJP spokesperson Prakash Javadekar condemned Kejrwial's statement on the Republic Day, and demanded that he give an apology to the nation.
The AAP protests are taking place in the national capital despite heavy rains
Commuters have been the hardest hit in central Delhi due to the AAP protest
Over 4000 police personnel have secured the protest area, and Rapid Action Force teams are on standby
Kejriwal has threatened to disrupt this year's Republic Day parade on grounds that both the BJP and the Congress, besides a section of the media are misleading the people.
He has also accused Union Home Minister Sushil Kumar Shinde of inconveniencing India by not cooperating with the Delhi administration. He said that as chief minister he will decide where he wants to sit for his protest, and not the central government or the Delhi Police.
Meanwhile, four Metro stations - Patel Chowk, Central Secretariat, Udhyog Bhavan, Race Course - have stopped operating until further notice. Massive traffic jams are expected in central Delhi.
Earlier, Kejriwal and AAP workers tried to remove the barricades at Rail Bhawan and threatened to go on an indefinite strike if his demands were not met.
"If by January 26, our demands are not met, then we will fill Rajpath with lakhs of people," Kejriwal warned.