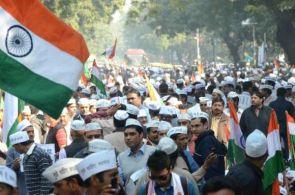 The Aam Aadmi Party on Sunday called off its protest march to Chief Minister Sheila Dikshit's residence after she "agreed" to receive 10.5 lakh letters of consumers stating that they would not pay "inflated" power and water bills.
The Arvind Kejriwal-led party had earlier threatened to go ahead with the march if Dikshit refused to receive the letters.
However, Kejriwal said they would be staging demonstrations at Jantar Mantar for the rest of the day.
"We have spoken to the chief minister today morning, she has agreed to listen to us and accept the petition letters. Therefore, we have decided to call off our protest march, but the agitation will continue here at Jantar Mantar," senior party leader Kumar Vishwas said.
"A ten-member team led by Manish Sisodia, Kumar Vishwas and other Lok Sabha coordinators will go to the CM's residence today to hand over the letter. We will be here protesting until and unless they return," AAP spokesperson Aswathi Muralidharan said.
The AAP has been demonstrating at Jantar Mantar over inflated power and water bills in the city. The party had claimed they had collected 10.5 lakh letters from residents who have refused to pay the inflated bills.
Senior AAP leaders including Kejriwal, Sisodia, Gopal Rai and Vishwas were present at the agitation venue.