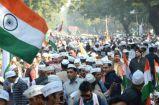 Aam Aadmi Party has threatened to march to Delhi Chief Minister Sheila Dikshit's residence next Sunday if her government does not receive over 10 lakh letters refusing to pay "inflated" power and water bills.
In a letter to Dikshit, AAP national convenor Arvind Kejriwal said they will organise a gathering of thousands at Jantar Mantar on April 28 and requested her to sent her officials to collect the letters.
"Our request to you is to send some Delhi government employees to collect the letters. If you think it is not proper, we will bring these letters to a place of your choice. We don't want confrontation. We don't want to meet you also. Our intention is only to deliver these letters.
"But if you don't receive the letters, we will be left with no option but to march from Jantar Mantar to your residence," Kejriwal said.
Earlier this month during his fast against "inflated" bills, he said when people went to deliver the letters, she did not receive it and even called police to prevent them from doing so.
"A question raises that whether a chief minister can decide not to receive letters from anyone. You cannot do that. You cannot say that you will not receive a letter though it is up to you to take whatever decision on that," he said.
On April 6, Kejriwal had broken his 15-day fast against inflated water and power bills.