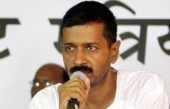 Aam Aadmi Party leader Arvind Kejriwal will break his indefinite fast against "inflated" power and water bills on Saturday on the 15th day of his protest after launching the second phase of the 'Civil Disobedience Movement'.
Announcing his plans on Friday, Kejriwal invoked Anna Hazare in his speech and expressed his wish to break the fast after receiving a glass of juice from the 74-year-old activist with whom he had split last September on the question of the anti-corruption movement taking a political plunge.
Hazare, however, will not be able to come to Delhi as he is on his nationwide tour, Kejriwal said.
Watch: Kejriwal announces his decision to end fast
Two AAP leaders Manish Sisodia and Kumar Vishwas had met Hazare, who is in Haryana, on Thursday and invited him to come to Delhi to break Kejriwal's fast. Hazare expressed his inability to come to Delhi, but wrote a letter appealing Kejriwal to end his fast.
As part of the launch of the second phase, the AAP activists will visit every ward and reconnect power and water connections disconnected by authorities for non-payment of bills, Kejriwal told his supporters after breaking the fast which started on March 23.
"After that, tomorrow (Saturday) evening the activists will assemble in New Delhi and I will break my fast. I will be only breaking my fast but the movement, the protest will go on," Kejriwal said.
"I wanted to break my fast by accepting a glass of juice from Anna Hazare but he cannot be here because of his tour. Though he would not be present here, I have his blessings," he said.
Hazare had visited Kejriwal at the protest site in northeast Delhi's Sunder Nagri on March 29 and had urged him to end his fast.
Later, Kejriwal also got the support of activists Aruna Roy and Medha Patkar, who had differences with him over his stand on the Lokpal Bill and anti-corruption movement entering politics, emphasising the need for a CAG audit of private discoms in Delhi. He said 10.5 lakh people have signed the petition saying that they will not pay the power bill.
"Does that mean they will stop paying power bills? No. But this is just the beginning. Everyone in Delhi upset with inflated power bills," the AAP leader said.