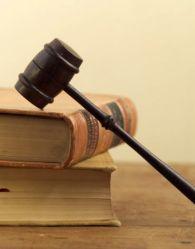 What happened to convicted politicians before the July 10 judgment of the Supreme Court?
Under Section 8(3) of the Representation of People Act, 1951, a person convicted of any offence and sentenced to imprisonment for more than two years was immediately disqualified as a member of Parliament or member of legislative assembly.
Further, if an MP/MLA was convicted of certain crimes such as promoting enmity in society and preaching or promoting untouchability, then irrespective of the amount of sentence, he stood disqualified for six years.
The immediate next section of the act, however, provided a breather to such convicted politicians. According to Section 8(4), the disqualification was suspended if within the next three months an appeal or revision was brought against the order. Therefore, convicted politicians were usually not disqualified as most filed appeals against the decision.
What did the SC rule?
Hearing a public interest litigation on July 10, 2013, a division-bench of the Supreme Court ruled Section 8(4) as ultra vires of the Constitution. The court said Parliament lacked powers under the Constitution to frame such a law. Consequently, if a sitting MP/MLA was convicted by a trial court, then he would be immediately disqualified and his seat will fall vacant. The court made it clear in its order that the judgment will not apply in those cases where an appeal had already been filed.
What was the government's proposed ordinance?
The proposed ordinance of the government was intended to nullify the Supreme Court judgment. The ordinance would have allowed convicted MPs/MLAs to continue in office, if appeal against the conviction was admitted by a higher court within 90 days.
Opposition's doublespeak?
Media reports said during the all-party meeting to discuss the SC order, Leader of Opposition in Lok Sabha Sushma Swaraj and Left leader Sitaram Yechury agreed with the government to protect convicted politicians from facing disqualification.
Swaraj has since accused the government of 'spreading complete falsehood'.
What is the BJP's assertion?
The BJP has criticised the government's proposed ordinance. However, it has been accused by the Congress of doing an about-turn to embarrass the government.
The BJP rejected "the Congress' mischievous assertion" that the party had made an about-turn. The party said the ordinance route was never discussed with the Opposition parties in the all-party meeting.
Cabinet withdrew the proposed ordinance. Does the matter end?
Yes, on the present issue. But separately, Parliament is considering an amendment to the RPA. If a high court finds a person guilty of corrupt practices, its order is sent to the President for a decision on disqualification. The amendment requires this communication to be sent within three months.