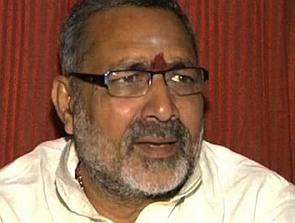 Four persons were on Tuesday arrested in connection with a burglary in Bharatiya Janata Party's leader Giriraj Singh's house and Rs 1.14 crore cash, $600, gold and silver jewellery and six luxury watches purportedly stolen from there recovered, police said.
The four accused including the Nawada MP's bodyguard, domestic servant, apartment security guard and another accomplice entered his flat on Monday when he was away in Delhi, they said.
Singh, who is in Delhi for the Parliament session, was not immediately available for comments. "It was a well planned theft. The arrested persons had inside knowledge about the valuables kept in the MP's flat. They broke the locks, collected everything in four suitcases and decamped with the booty. They had even hired an auto rickshaw to take the stolen goods," Patna Senior Superintendent of Police Manu Maharaj said.
A special investigation team was set up track the culprits and all important roads of Patna were kept under surveillance, he said.
Police were on Tuesday alerted about a person moving with four suitcases from Gandhi Maidan area to Sultanganj under suspicious circumstances, he said.
The accused, who was trying to flee to Hajipur, was nabbed by police and all valuables believed to have been stolen from the MP's flat were recovered from him, Maharaj said, adding, based on his inputs the others were promptly nabbed.
Police claimed that the total recovery comprising the valuables and the cash is around Rs 2 crore.