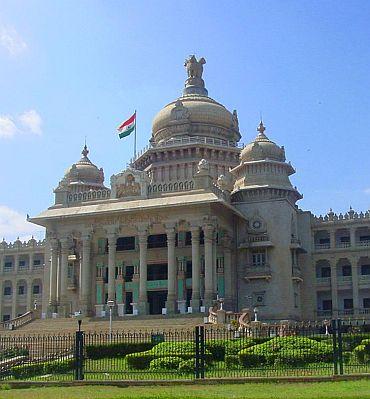 The Centre is expected to finalise the list of Bharatiya Janata Party veterans to be appointed as Governors to fill up vacancies in various Raj Bhawans on Wednesday.
The probable names doing the round include former Uttar Pradesh Assembly Speaker Keshri Nath Tripathi, former Union minister Ram Naik, former Lucknow MP Lalji Tandon, former Bhopal MP Kailash Joshi, BJP leader from Kerala O Rajagopal and veteran party leader from Himachal Pradesh Shanta Kumar.
Prime Minister Narendra Modi, Home Minister Rajnath Singh and other top leaders are believed to have discussed the issue and shortlisted the names, sources said on Tuesday.
Initially, seven to eight names will be finalised and the Home Ministry will recommend them to the President for formal appointment, they said.
Last week, the Home Minister had said that the government would "very soon appoint some Governors". Following the change of guard at the Centre and the new regime's pressure, five Governors have already resigned. They are B L Joshi from Uttar Pradesh, M K Narayanan from West Bengal, Chhattisgarh's Shekhar Dutt, Nagaland's Ashwani Kumar and B V Wanchoo from Goa.
Two Governors -- H R Bhardwaj from Karnataka and Devanand Konwar from Tripura -- retired late last month. A few other Governors appointed by the previous United Progressive Alliance regime, however, continue to remain in office despite the Government's pressure. They include K Sankaranarayanan, Maharashtra, Sheila Dikshit Kerala, Jaganath Pahadia from Haryana and Shivraj V Patil from Punjab.
Gujarat Governor Kamala Beniwal was transferred to the Mizoram Raj Bhawan on Sunday, and Mizoram Governor Vakkom Purushothaman has been shifted to Nagaland for the remainder of their term.
Name of former Attorney General Soli Sorabjee is also doing the rounds to be appointed as Governor.
Kerala Governor Dikshit and Maharashtra Governor Sankaranarayanan too may be transferred to the Northeastern states, the sources said.