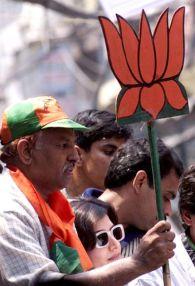 Bihar's ruling Janata Dal-United General Secretary K C Tayagi said on Monday that there is 'communalism' in Bharatiya Janata Party's DNA which is more dangerous than castiesm.
"Aap ke (BJP) mein to sampardaikta hain, yeh jativaad se adhik khatarnak hain" (There is communalism in RSS and BJP's DNA) Tayagi told media persons in a reply to former BJP president Nitin Gadkari's remark about there being casteism in Bihar's DNA.

Tayagi said Gadkari has not only insulted the people of Bihar but has also exposed the mindset of the BJP. "Can Gadkari explain as to why in the nearly 100 years, RSS is headed by a particular caste, except one of its chief who was from another caste? Targeting Bihar for casteism is like closing your eye and brain from seeing RSS's casteism," he said.

Tayagi, who is also the JD-U national spokesperson, said that the statement of another senior Bihar BJP leader Giriraj Singh on Modi's opponents being pro-Pakistan, is objectionable and anti-national.

"The Election Commission of India should initiate action against Giriraj Singh for his remark. It is against the unity of the country," Tayagi said.

Tayagi said his party JD-U has already asked the Election Commission to lodge a case of treason against Griraj Singh.

Meanwhile the Election Commission ordered the Patna district administration on Monday to lodge an FIR against senior BJP leader Griraj Singh for his remarks.

Additional chief electoral officer R Lakhshaman told news persons that the EC has ordered the Patna district magistrate to lodge a case against Griraj Singh. It is an open violation of model code of conduct, he said.

Lakhshaman said the order was given to the Patna administration after Griraj Singh failed to respond to a 24-hour deadline to submit his explanation.