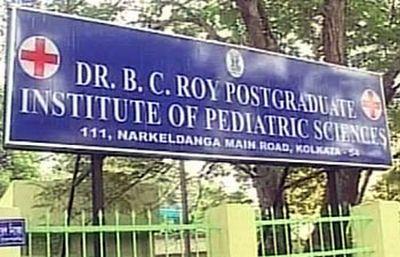 Altogether 35 children have died at Kolkata's state-run B C Roy Children's Hospital in the last five days.
The largest referral children's hospital in the eastern region of the country had been in the news for a large number of crib deaths in the past few years.
"Thirty five child patients have died in our hospital in the last five days and almost all of them were brought in a moribund condition," hospital sources said, denying any medical negligence on the part of the doctors and nursing staff.
State health department formed a three-member probe committee which gave clean chit to the hospital and ruled out any negligence on the part of the authorities, the sources said.
Eight child specialists were also sent to the hospital to assist the attending medical staff.
Tridib Banerjee, chairman of the task force formed to supervise child health care, said, "The health department has been struggling to take the best care of child health as per instruction of Chief Minister Mamata Banerjee."
"We have been striving to ensure that not a single child patient dies for want of proper treatment," he said.
Hospital sources said terminally-ill child patients were brought from different hospitals and "in some cases, we have noted that nothing can be done".
They said normal death rate in the hospital was 5 to 6 and "in this case it is 7 and above in last five days".
According to hospital authorities, 70 terminally ill child patients are, on an average, taken to the hospital everyday, and the best of care is taken for them.
Local councillor Swapan Samaddar of ruling Trinamool Congress said most of the crib deaths occurred as they were brought in a terminal condition.
"In some cases, they were brought dead and even died in ambulances on way here from other hospitals," he claimed.
Crib deaths in the hospital had raised a hue and cry when it reported 18 deaths in 48 hours on July 1, 2011.
According to reports, 22 cribs died in three days in 2002, 14 in two days in 2006 and 18 in two days in 2011 in this hospital.
Image: Video grab of the hospital