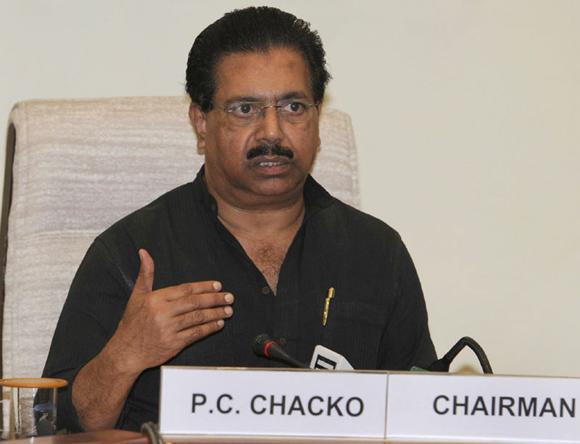 The Joint Parliamentary Committee on 2G scam is set to get a fresh extension beyond September 6 with the Lok Sabha on Wednesday unanimously adopting a resolution to this effect.
The term of the JPC will be extended till the end of the Winter session as the Rajya Sabha was informed this evening about the resolution adopted by the lower house. This will be the sixth extension to the JPC set up in March, 2011. The term of the committee was scheduled to end on September 6. The resolution, moved by panel chief P C Chacko, was adopted unanimously. The move to extend the term of the 30-member panel came days after sharp differences between the government and the opposition over nomination of two Rajya Sabha members to the JPC.
In a step that will affect the balance in the JPC on 2G scam, two Rajya Sabha members, including one Nominated, were appointed to the panel amid stiff resistance from the Bharatiya Janata Party. The motion to appoint Congress member P Bhattacharya and nominated member Ashok S Ganguly to the committee was adopted by voice vote amid din created by BJP members who argued that the move will affect the balance of the panel.
The motion was moved to fill up two vacancies created in the JPC after the retirement of Opposition Dravida Munnetra Kazhagam member Tiruchi Siva and resignation of E M S Natchiappan (Congress) who became a minister in July. The entry of Ganguly, who is perceived to be close to the Congress and comes in place of opposition DMK member Siva, will tilt the balance in the panel and will be crucial in the event of voting.
The committee now has 12 members of the ruling United Progressive Alliance – Congress -- 11 and Nationalist Congress Party -- 1. Among its outside allies, the Samajwadi Party has one member and the Bahujan Samaj Party two members. Opposition camp has Bharatiya Janata Party -- 6, Biju Janata Dal -- 1, Trinamool Congress --- 1, Communist Party of India -- 1, CPI-M -- 1, DMK -- 1 and AIADMK -- 1. The Janata Dal-United, which recently split with the BJP, has two members.
The JPC has 20 members from Lok Sabha and 10 from Rajya Sabha. The panel had last met in February. After the draft report was circulated in April, the panel has not met so far due to a variety of reasons. The draft report gave clean chit to Prime Minister Manmohan Singh and Finance Minister P Chidambaram and indicted former Telecom Minister A Raja for the 2G scam. Fifteen members from Opposition parties including from former UPA allies DMK and Trinamool Congress, had earlier written separate letters to the Speaker contending that they have "no confidence" in the JPC Chairman and had appealed to her to immediately remove him. They had also rejected the draft report "in toto".
The Speaker has expressed her inability to remove him as chairman and had asked members to "sink" their differences and produce a report.