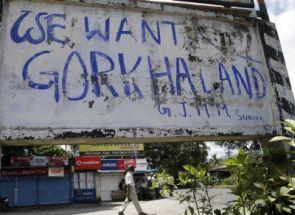 After protests by Trinamool Congress, the Centre on Friday promised not to hold any talk with Gorkha Janmukti Morcha without involvement of the West Bengal government and said the recent meeting of the group's leaders with Home Minister Sushilkumar Shinde was "coincidental".
Minister of State for Home Affairs RPN Singh said in Rajya Sabha that the delegation led by Jaswant Singh, Bharatiya Janata Party member of Parliament from Darjeeling, had called on Shinde on September 3 at a very short notice.
Since the delegation was led by an MP, Shinde decided to meet them despite not being in best of health, he said. He said Shinde tried to reach West Bengal Chief Minister Mamata Banerjee over phone but she could not be reached immediately as she was in a meeting in Kalimpong.
Seeking to allay concerns of Trinamool Congress, the ruling party of West Bengal, the Minister said any talk on Gorkhaland demand will be tripartite involving the state government.
His statement came after Trinamool members created uproar in both Houses of Parliament, questioning why Shinde met GJM delegation without informing West Bengal government despite assurance by Prime Minister Manmohan Singh.
The Trinamool members forced brief adjournments before being assured that the government will make a statement. After the statement, Derek O'Brien (Trinamool Congress) said "please do not do politics".
Terming the timing of the meeting as insensitive, he said, "Please have faith in the state government...Please don't play and divide and rule. It is a very sensitive issue."
O'Brien cited a letter written by the prime minister to Mamata Banerjee on August 1 in which he wrote, "I have instructed Central Government personnel that any meeting with GJM leadership should be done in consultation with the state government and that they should keep you informed of developments."
Trinamool has rubbished the demand of GJM for a separate state, saying such a small area with just three assembly seats cannot become a state carved out of West Bengal which has 294 assembly seats.