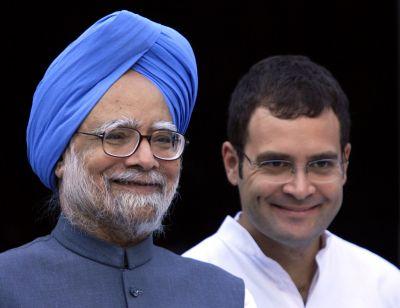 Indicating he was ready to don any role in the Congress after the 2014 general elections, Prime Minister Manmohan Singh on Saturday said he will be "very happy" to work under the leadership of Rahul Gandhi.
Singh also maintained that Rahul, the Congress vice president, will be an "ideal choice" for the prime ministership post after the next Lok Sabha polls.
"I have always maintained that Rahul Gandhi would be an ideal choice for the PM post after 2014 elections (Lok Sabha). I will be very happy to work in the Congress under the leadership of Rahul Gandhi," the prime minister told reporters accompanying him on board the special Air India aircraft on his way home after attending the G20 summit in the Russian city of St Petersburg.
80-year-old Singh was replying to a question on whether it is possible for him to seek a third term on the grounds that many in the Congress would like to see Rahul to lead the party.
Singh also did not rule out any alliances with erstwhile ally Trinamool Congress in the future, saying in politics there are no permanent enemies and permanent friends.
He was asked whether the Congress will seek an alliance with Trinamool for the upcoming Parliamentary elections.
"In politics, there are no permanent enemies and permanent friends. And in many ways, a week in politics is sometimes an unusually long period of time," he said, adding, "So, I don't rule out, for example, alliances."
Noting that Mamata Banerjee was a very respectable member of the Congress party at one time, the prime minister said the Congress was also very happy to have her in the UPA government.
Singh said the Congress would very much like like-minded, secular minded persons to work again to give the country's polity a thrust in favour of secular elements.
'Yet to decide on meeting Nawaz Sharif'
Amid suspense over whether he will meet Nawaz Sharif later this month, Dr Singh said he will have to factor in "certain harsh realities" like India being affected by terror before arriving at a "final decision" on meeting his Pakistani counterpart in New York.
Singh asserted he would be happy to meet Sharif under "normal conditions" as he had respect for the Pakistani premier, who had said the right things about how India-Pakistan relations should evolve.
"But there are certain harsh realities on the ground. If the terror acts do not stop, if those who voice terrorist thoughts move about freely, if there is no significant progress in bringing the culprits of the Mumbai massacre to book -- that I have to factor in before arriving at a final decision," he said.
The uncertainty surrounding a Singh-Sharif meeting on the sidelines of the UN General Assembly in New York later this month comes against the backdrop of 26/11 mastermind Hafiz Mohammad Saeed not being brought to justice in Pakistan and moving around freely in that country, and also the lack of progress in the Mumbai attacks trial in Islamabad.
Image: Prime Minister Manmohan Singh with Congress Vice President Rahul Gandhi
Photograph: B Mathur/Reuters