Prime Minister Manmohan Singh interaction with media persons on Friday went on expected lines. He was not only confident but aggressive as well.
What Congress president Sonia Gandhi and party vice president Rahul Gandhi could not do effectively, Dr Singh did it with ease in a nationally-televised media briefing.

Rediff.com's Sheela Bhatt analyses the three takeaways from Dr Singh's interaction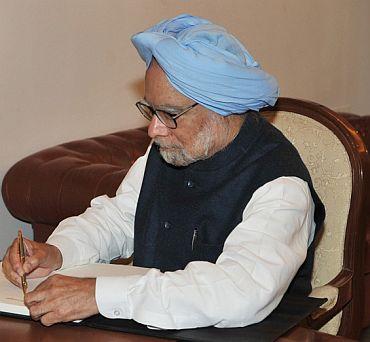 Sharp criticism of Narendra Modi

In his sharpest comments ever against the Bharatiya Janata Party's prime ministerial candidate Narendra Modi, Dr Singh asserted that the former would be disastrous as PM.

"I sincerely believe what Modi is saying is not going to materialise," he said.

Dr Singh sought to remind the nation, "If you measure the strength of prime minister by presiding over mass massacre of innocent citizens on streets of Ahmedabad, then I do not believe in it."

Ruling out a third term

The prime minister also ruled out a third term for him if the UPA was to return to power post the 2014 Lok Sabha elections.

Ending all speculations on the matter, Dr Singh said: "In a few months time, after the general election, I will hand the baton over to a new prime minister. I hope it will be a UPA-chosen prime minister and our party will work to that end in the campaign for the general elections. I am confident that the new generation of our leaders will also guide this great nation successfully through the uncharted and uncertain waters of global change."

However, the prime minister kept some key cards close to his chest, including that on whether he would retire from politics post 2014 or play an active role in a probable UPA dispensation.

Dr Singh, though, dropped enough hints about Rahul Gandhi being named as the Congress party's prime ministerial candidate.

He said, "I have always felt that our government would have strengthened if Rahul Gandhi had joined it. Rahul has outstanding credentials to be nominated as the PM candidate and I hope the party will take that that decision."

Running a coalition government for 10 years

One of the most noticeable aspects of Friday's media interaction was the vociferous manner in which the prime minister took credit for running a coalition government for 10 years.

"Under compulsion of coalition politics I have served as best I could," he said.
"We showed that the congress party can coalition for two terms. There have been compromises. These compromises related to peripheral areas and not in areas that related to major national problems," the prime minister said.
To a question whether the thought of resigning crossed his mind against the backdrop of scams and difficulties,"I never felt like resigning at any time. I enjoyed my work and did my job without fear or favour."