It is not Manmohan Singh's style to create melodrama and resign at a press conference.

On Friday, during his interaction with the media, the prime minister is expected to present his aggressive and confident face. Sheela Bhatt reports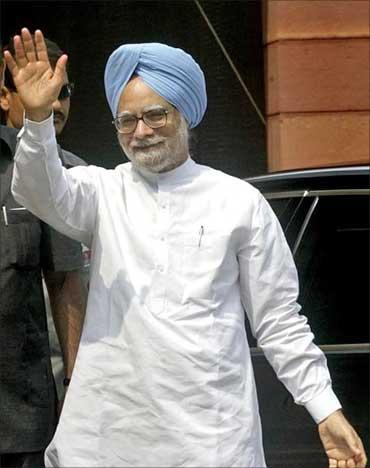 Even after being the prime minister for nearly 10 years, Manmohan Singh is still largely an unknown entity. His politics remains inscrutable for many in New Delhi.

Just before Dr Singh's press conference -- his third such interaction during his tenure -- on Friday few ridiculous speculations are being made.

One television channel is even running the story, "if PM would resign".

Before that The Telegraph, the prestigious daily from Kolkata, too ran the story hinting that the 'prime minister could announce at a media conference early in the new year the less-unexpected decision of not seeking a third term, but the big question is if he would make way before the elections'.

But those who know Dr Singh before he even became finance minister claim that 'It is not his style to create melodrama and resign at a press conference'.

More than his penchant for pragmatism in public life, he is most unlikely to go before he completes his full term.

If he steps down before the end of the United Progressive Alliance government's tenure, it will be clear admission of his failures and his entire career will be ruined. How can he debit his sole account for scams and taints of the UPA government for which he solely is not responsible?

Also, the Congress is on weak wicket.

If Dr Singh makes way for Rahul Gandhi -- as The Telegraph story tried to debate -- 50 per cent of the 2014 Lok Sabha election battle is lost, as it would show the Congress as admitting that the prime minister and his government floundered and that the scams have some element of truth behind it.

A senior minister of the UPA Cabinet had told rediff.com in 2009, "I have observed our PM closely. He will complete his full term."

Congress sources claim that the 'core group', which really ran the government from behind, is in favour of Dr Singh completing his full term.

The prime minister will use Friday's press conference to present his aggressive and confident face.

He will speak guardedly about Rahul and push him forward, delicately, without diminishing his own stature. At the most, he will kick-start process to help Rahul lead the party from the front.

He will speak on his government without hurting his party.
Dr Singh is what the New Delhi 'establishment' represents to the nation and to the world. Such leaders do not rebel; they rule and fade away.

Over to the prime minister at the national media centre at 11 am.