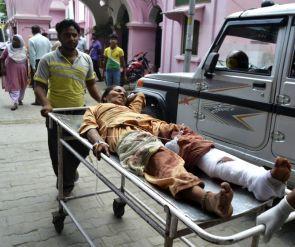 Three persons were killed on Wednesday night as communal violence erupted afresh in Budhana area of Muzaffarnagar district hit by riots last month which left 62 dead.
Eight persons were arrested in connection with the latest round of violence and security was enhanced in the entire district where tension ran high, officials said.
The three victims, identified as Afroz, 20, Meherban, 21, and Ajmal, 22, were beaten to death while another was injured in clashes between members of two communities at Muhammadpurraisingh village, District Magistrate Kaushal Raj told PTI.
Eight persons were arrested and efforts are on to apprehend others involved in tonight's incident, the district magistrate said.
Sources said the victims were among those people staying in relief camps after the recent riots.
The incident appeared to be a fallout of the communal tension in the region. Muhammadpurraisingh village was one of places affected by the riots last month.
Residents of Muhammadpurraisingh clashed with people belonging to Hussainpur village that led to the death of the three youths, according to sources.
Though the two villages are at a distance of a kilometre, their agricultural fields are situated nearby, the sources said, adding some people spread rumours that five persons were planning to attack members of a community residing at Muhammadpurraisingh village.
Senior police officials, including the SSP, were camping in the area to prevent any further untoward incident.
Image: A woman who was injured in communal clashes that hit Muzaffarnagar in August is rushed to a hospital
Photographs: Reuters