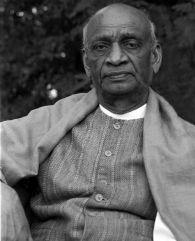 After the public spat over the legacy of Sardar Patel between Gujarat Chief Minister Narendra Modi and Prime Minister Manmohan Singh, Modi will lay the foundation stone for the statue on Thursday.
Modi wrote on his blog today that "Sardar Patel's birth anniversary would be even more special because we (Gujarat government) are going to lay the foundation stone of the Statue of Unity".
"At a height of 182 metres, 'the State of Unity' would be among the tallest statues in the world, celebrating and paying tributes to the Iron Man of India. It would be situated at Sadhu Bet, which is close to the Sardar Sarovar Dam," he wrote.
"The statue is being built through the PPP model, using the latest technology. A few months ago, I had appealed to my farmer sisters and brothers from all over India to contribute their iron tools they used in farming to build the statue.
After all, Sardar Patel was not only a Loh Purush (Iron Man) but also a Kisan Putra (son of a farmer). I once again appeal to everyone to support us in this endeavour," Modi wrote in his blog.
The inauguration of the Sardar Patel museum on Tuesday, virtually turned into a debate between the Prime Minister and Modi over claim to the legacy of Patel, independent India's first home minister.
Narendra Modi had said that India's "fate and face" would have been different had Sardar Patel been its first prime minister, while Prime Minister Manmohan Singh reminded the BJP's PM candidate of the 'Iron Man's' "secular outlook".
"Sardar Patel is the architect of modern India. Overcoming various obstacles, he integrated the entire nation and today, if we can celebrate our unity, it is due to the efforts of Sardar Patel," Modi wrote.
The proposed 182-metre tall Sardar Patel statue which will be called 'The Statue of Unity', will be erected on a small rocky island called Sadhubet in the middle of the Narmada riverbed facing the Sardar Sarovar Dam at Kevadia. The statue will have steel framing, reinforced cement concrete and bronze coating.
Talking to PTI, state tribal development and forest minister Ganpat Vasava, who is also the in-charge of Narmada district, said, "There will be two lifts in the statue and a balcony in the eye of the statue. Visitors can view the beautiful natural surroundings and the Sardar Sarovar Dam from such height".
The entire project will include the statue, a memorial park at the base of the statue, an artificial reservoir between the dam and Garudeshwar town, besides a visitor facilitation centre and reception desk at Kevadia.
The Statue of Unity, is being undertaken by the Sardar Vallabhbhai Patel Rashtriya Ekta Trust (SVPRET), headed by Modi himself.