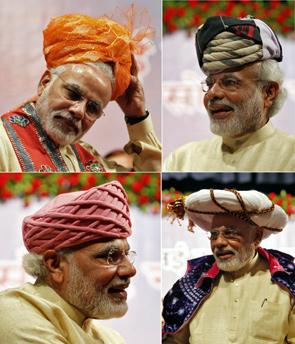 Gujarat Chief Minister and Bharatiya Janata Party's prime ministerial candidate Narendra Modi is the top-most target for all four major terror outfits in India, according to Indian Mujahideen's recently-arrested chief Yasin Bhatkal.
The Lashkar-e-Tayiba, the Indian Mujahideen, the Harkat-ul-Jihadi Islami and the Al-Ummah all have Modi on top on their hit-lists.
Bhatkal told the National Investigation Agency that the IM had drawn up multiple plans to target Modi, but the iron-clad security enjoyed by the Gujarat CM, who is privy to Z-category protection, has punctured such plans before they could even take off.
Operatives of IM and other terror groups working in Gujarat receive the most funding, revealed Bhatkal, as the IM's handlers in Pakistan take a keen interest in the operations conducted in the state where, they feel, the Muslim community has been gravely wronged.
But terror operatives of Gujarat have also been urged to be extra cautious while planning operations, as foiled attack plans tend to backfire under the current state administration.
"Our handlers in the Lashkar instructed us to plan major attacks in Gujarat, but they also warned us against carrying out smaller strikes since triggering any kind of tension in the state would be dangerous," Bhatkal told his interrogators.
According to an official of the Intelligence Bureau, Modi is the most talked about target for terror groups operating in India.
"We pick up at least 10 to 15 intercepts a week where Modi has been discussed in terror circles. These people keep a tab on every move of his; all his speeches are carefully scrutinised and watched," he said.
However, these terror outfits realise that a direct strike on Modi can trigger violent communal clashes in Gujarat, which still has not obliterated the taint of the 2002 riots.
The IM, which has the most number of modules in Gujarat, has decided that it would use its operatives in the neighbouring states to carry out strikes in Modi's fiefdom.
"We have issued several alerts to the state police to remain alert all the time," said the official.