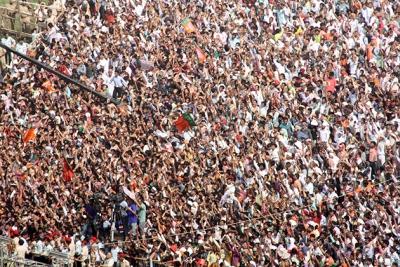 Bharatiya Janata Party President Rajnath Singh said on Monday there was a "security lapse" at the venue of Narendra Modi's rally in Patna, which witnessed serial blasts that left six persons dead, and extra precautions should have been taken.
"...Security lapse was there, there cannot be any doubt about that. Bihar Chief Minister Nitish Kumar spoke to me on Sunday, expressed his sadness and said investigation is going on and assured me that within one or two days he will collect all information," he told reporters in New Delhi.
Since the rally was being addressed by BJP's prime ministerial candidate, "extra precautions should have been taken" while ensuring that people are not put to inconvenience, the BJP president said. He praised the people of the state for showing patience and maintaining calm in the wake of the blasts.
Six persons were killed in the eight low-intensity serial blasts of which six bombs went off in and around the venue of Modi's mega rally at Gandhi maidan shortly before his address on Sunday.

Image: Lakhs of supporters of Narendra Modi gathered at Gandhi maidan in Patna despite the blasts