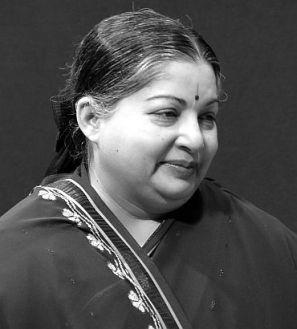 Seeking to capitalise on the large number of non-Congress and non-Bharatiya Janata Party parties having "substantial support and strength in the country," the All India Anna Dravida Munetra Kazhagam and the Communist Party of India-Marxist on Monday entered into an alliance in Tamil Nadu for Lok Sabha polls.
"I am happy to announce that the AIADMK and the CPI-M have decided to enter into an alliance to face the forthcoming Lok Sabha elections together. And we expect that this alliance would be very successful," AIADMK supremo Jayalalithaa announced in Chennai in the presence of CPI-M leader Prakash Karat.
The CPI-M general secretary said the two parties were confident that their alliance would be successful in Tamil Nadu and also "contribute to providing an alternative in the country."
"I think it is clear that there are large number of parties -- non-Congress, non-BJP parties, which have substantial support and strength in this country. This will be reflected in the coming elections," Karat said.
To a query as to who would be their prime ministerial candidate, Jayalalithaa and Karat said it was pointless for any party to enter into such discussions now as the question would arise only after the election results were out.
The AIADMK had on Sunday announced its alliance with the CPI for the LS polls.
Left parties in Tamil Nadu have remained with the AIADMK since the 2011 assembly polls, while Manidhaneya Makkal Katchi and Puthiya Thamizhagam have left the alliance and joined hands with the Dravida Munetra Kazhagam.