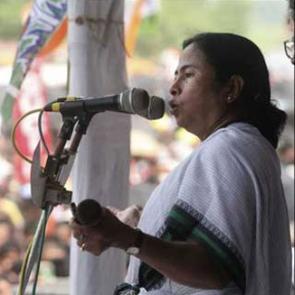 Kick-starting her party's Lok Sabha campaign, Trinamool Congress supremo Mamata Banerjee on Thursday said her party would go it alone in the 2014 polls and renewed her call for a federal front of non-Congress and non-Bharatiya Janata Party parties.
Addressing a well-attended rally in Kolkata, Banerjee, who had shared power earlier with the BJP-led National Democratic Alliance and Congress-led United Progressive Alliance at the Centre, attacked both, saying, "We do we want dynastic rule, nor do we want a government of rioters at the Centre. We want a people's government".
Banerjee, who was asked by the Communist Party of India - Marxist earlier to come clean on the party's stand vis-a-vis a Narendra-Modi headed government after the Lok Sabha elections, made it clear that there will not be any alliance with the BJP.
Ruling out any deal with the BJP, Congress and the Marxists in the coming election, she said, "We want a federal front of regional parties as an alternative in order to strengthen and safeguard the interests of the states. If such a front is in a position to form the next government, we will give it our support."
Banerjee said her party would try hard to stitch together a federal front of regional parties to form a government after the next polls.
She also expressed her willingness to give outside support to such a government, saying, "If needed, we will give support. We do not have any lust for power and chair."
Confident of playing a crucial role at the Centre post-election, she claimed that her party was the only alternative to the Congress and the BJP in the country.
Coming down hard at the UPA government over price rise, corruption and "non-cooperation" in giving funds to West Bengal, she called for "durniti hatao, desh bachao"
(Remove corruption, save country).
"At the Centre, we want a government of integrity and unity and want a change of dynastic rule in Delhi," she told the rally.
She also chose the rally to announce that the Trinamool Congress would fight the Lok Sabha election in other states also.
"We will fight the elections in other states apart from Bengal. I will personally campaign in those other states" she said to loud cheers of TMC supporters at the vast Brigade Parade Ground.
The mega rally led to massive traffic jams in the city.
Riding high on the party's back-to-back massive victories in the recent panchayat and municipal elections, Banerjee cautioned party workers against being complacent and overconfident.
Giving a call for "Delhi chalo", she said, "We have to target all 42 seats in West Bengal.
"We want to win all the 42 seats in Bengal. That will not be by coercion but by love and by making the people understand that the CPI-M has not done anything for them in 35 years," she said.
Elated over the impressive turnout, she said it proved that Bengal would once again lead the country and referred to freedom fighter Gopal Krishna Gokhale's famous quote, "What Bengal thinks today, India thinks tomorrow".