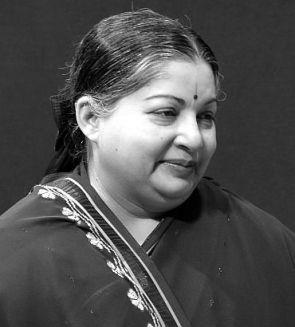 Attempting to form a "secular and democratic alternative" to dethrone the Congress from power at the Centre, the All India Anna Dravida Munetra Kazhagam and the Communist Party of India on Sunday announced their decision to enter into an alliance ahead of the coming Lok Sabha polls.
Addressing the press at her PoesGarden residence in Chennai along with CPI leaders A B Bardhan and Sudhakar Reddy, AIADMK chief and Tamil Nadu Chief Minister Jayalalithaa said, "The AIADMK and the CPI have decided to enter into an alliance to face the upcoming Lok Sabha elections together."
Senior CPI leader Bardhan said "I endorse whatever she has said. Our alliance will lead to victory. We will succeed."
To a query on the increasing clamour among AIADMK cadres to project Jayalalithaa as their prime ministerial candidate, Bardhan said "If we succeed in the election, as I said the prospects will open up."
Jayalalithaa intervened to say "All that will come later. Our aim is to win all 40 seats in Tamil Nadu and Puducherry."
"Our slogan for the elections is Peace, Prosperity, Progress," she said, replying a query on what would be the issues her alliance would project for the polls. Reddy said the alliance is a "secular and democratic alternative" to win the election.
The AIADMK general secretary also said that the CPI-M leader Prakash Karat would meet her on Monday.
Left parties in Tamil Nadu have remained with the ruling AIADMK in Tamil Nadu since the 2011 assembly polls, while Manidhaneya Makkal Katchi and Puthiya Thamizhagam have left the alliance and joined hands with the DMK.
Sunday's announcement emerges as a possible third front in Tamil Nadu politics for the coming Lok Sabha elections, with the Bharatiya Janata Party already announcing its alliance with MDMK, while the Congress is attempting to have partners
The BJP is also trying to rope in Pattali Makkal Katchi and actor-politician Vijayakant's Desiya Murpokku Dravida Kazhagam.
The Dravida Munnetra Kazhagam, which faced the 2009 Lok Sabha polls with the
Congress, left the alliance over the Sri Lankan Tamils issue early last year and is presently attempting to rope in the DMDK.
The MDK, which was a major ally of the AIADMK in 2011 assembly polls, parted ways with the ruling government and is likely to announce its decision on alliance at its conference near Villupuram later on Sunday.
Vidithalai Chiruthaigal Katchi quit the United Progressive Alliance along with the DMK over the Sri Lankan Tamils issue and has remained with that party.