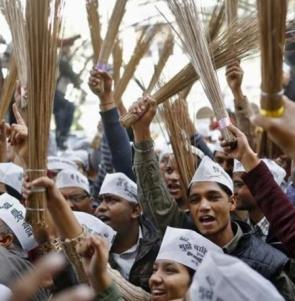 After a nationwide membership drive, the Aam Aadmi Party is set to launch a campaign to add 500,000 people to its workforce.
Party leader Gopal Rai, who headed the Mai Bhi Aam Aadmi Hoon campaign, told the state teams at the National Council meeting in Delhi on Friday that the party would soon launch a volunteer recruitment drive.
"A campaign to recruit volunteers would be launched from February 5 and the target would be to get 5,00,000 people into the party as volunteers," said Rai.
Rai said people who were interested to give time to the party could register themselves as volunteers once the campaign was launched.
The volunteer would be assigned a responsibility, said Rai. He also announced that the party was looking for 18-20 "organisers" at both booth and constituency levels for the upcoming Lok Sabha elections.
This force, Rai said, would be actively involved in handling booth management and polling booths of the party, till the Lok Sabha elections.
The party would identify the volunteers, the tasks to be assigned to them and also examine ways in which party members could work for the party as volunteers.
In the meeting, the party also conveyed that it had se tup teams in 304 out of the targeted 650 districts in the country.
Various state conveners gave their feedback on their respective regions in front of the NC members.
The party national secretary urged the conveners to form unit level donation teams to raise more funds. He also said that the party had got 6,000 forms so far for the Parliamentary elections.
In Gujarat, the party has formed committees in 19 districts, in Maharashtra, there are party units in 30 out of 37 districts and in Haryana, 17 out of 21 districts have the party committees. A state chapter for non-resident Indians has been formulated in Madhya Pradesh.
It was informed that in Karnataka, the party has a "very strong" position in 7 out of 28 seats.
The financial position of the party, its strategy for the Lok Sabha elections and certain constitutional amendments related to the party were also discussed.