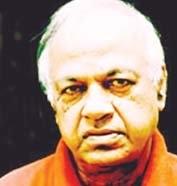 June 17, 2013
B Raman, expert on counter-terrorism, passes away
Bahutkumbi Raman, one of the founders of the Research and Analysis Wing, India's external intelligence agency, and one of India's foremost security experts, passed away in Chennai on Sunday evening after a prolonged battle against cancer. He was 77.
May 15, 2013
Ladakh standoff revived India's distrust of China
India should make it clear that relations in the economic and other fields cannot improve without satisfactory progress in the border talks, feels senior analyst B Raman
May 11, 2013
Don't have too many expectations from new Pak govt
There is a need to restrain euphoric expectations -- from the positive statements on relations with India -- made by some mainstream Pakistani political leaders such as former prime minister and leader of Pakistan Muslim League Nawaz Sharif.
May 07, 2013
AZAN: The EXPLOSIVE new jihadi magazine
Jihadis in Afghanistan and Pakistan have come up with another explosive terror journal that attacks Pakistan government for turning its back on 'traditional enemy' India among other things, B Raman points out.
April 23, 2013
Chinese intrusion is a matter of concern, not alarm
We have seen greater Chinese activism in the South and East China seas, but not across the Sino-Indian border. If the Chinese troops stay put in the Burthe area and construct defensive structures, that will be an indicator of their deciding to follow a similar policy of activism across the Sino-Indian border, says B Raman.
April 13, 2013
Can the disaster of 1996 repeat itself in Afghanistan?
While the Soviet troops left Najibullah all alone without any back-up support to counter the Afghan Mujahideen, the US is unlikely to leave Karzai and his successor's government all alone, says B Raman
April 12, 2013
View: Tytler got a clean chit due to CBI's biased probe
If the credibility of our criminal justice system has to be restored and if we have to win the confidence of the Sikh community, it is important that further investigation against Jagdish Tytler be done in a time-bound manner by a special investigation team which reports directly to the court, says B Raman
March 31, 2013
Swaraj may be right about opposing NHRC appointment
The public would tend to believe that retired IPS officers appointed to head the investigation division of the NHRC would not be fair and impartial, points out B Raman
March 23, 2013
The curious case of Sanjay Dutt
Security expert B Raman says his views about actor Sanjay Dutt have nothing to do with his celebrity status or his family and social connections
March 22, 2013
Govt mishandling puts CBI in embarrassing position
The probe agency will be suspected if it went ahead with the investigation against M K Stalin and suspected even more if it did not, says B Raman
March 20, 2013
Beware! Neo-LTTE may worsen the Lanka conundrum
New Delhi's handling of the post-May 2009 situation has been a case of one faux pas after another, says B Raman
March 16, 2013
New China leadership: Cautious & politically conservative
Any expectation that the new leadership -- newly appointed President Xi Jinping and Premier Li Keqiang -- would take China on the road to a more liberal society would be premature, writes senior analyst B Raman.
March 12, 2013
More than the Italians, the government shamed India
The half-heartedness of the Indian government in prosecuting the Italian Marines is likely to be interpreted by detractors as an indicator of the influence exercised by Italy over the government's actions in this case, says B Raman.
February 23, 2013
The unprofessional way of dealing with terrorism
B Raman analyses why most terror cases in India remain undetected
February 21, 2013
Are Hyderabad blasts the handiwork of locals?
The limited geographical area of the twin blasts rules out the involvement of a large team of terrorists. The objective of the perpetrators was obviously to cause fatalities as an act of reprisal, says B Raman
February 16, 2013
Don't allow a cover-up of the chopper scam
One cannot expect a thorough-going investigation by the CBI as long as it acts under the supervision of the government, points out B Raman
February 14, 2013
Dealing with a defiant North Korea
The US should join hands with Japan, South Korea, India and Israel to target North Korea's nuclear and missile establishments through covert action, feels security expert B Raman
February 13, 2013
Afzal Guru's execution: An unfortunate yardstick
In the competitive pre-poll attempt to show who is stronger in dealing with terrorism, the government and the Bharatiya Janata Party seem to have overlooked the mitigating factors and used Afzal Guru's execution as an unfortunate yardstick to establish their strong counter-terrorism credentials, says B Raman
February 09, 2013
Afzal Guru execution: Security focus must be pan-India
B Raman assesses the likely threats to India from Afzal Guru's execution.
February 03, 2013
How should India engage the new Chinese leadership
The challenge for India and China is to achieve a new web of strategic relationships without weakening the present momentum towards better bilateral relations, says B Raman
February 01, 2013
Pak inducts China into Balochistan to counter India
The Pakistani authorities are hoping that the Chinese agreement to take over the operation of the Gwadar port could act as a deterrent to India whom they suspect of helping the Baloch freedom-fighters, notes B Raman.
January 24, 2013
Probe the Indian terror links of Headley and Rana
There has been a huge cover-up of the LeT iceberg in India that helped David Headley and Tahawwur Rana plan the 26/11 terror strike, says B Raman
January 22, 2013
Shinde's prejudiced MHA stewardship MUST be condemned
Sushilkumar Shinde's deeply prejudiced and communal stewardship of the Union ministry of home affairs needs to be condemned by all right-thinking persons, notes B Raman.
January 21, 2013
We should avoid over-stated expectations from Rahul
Rahul Gandhi is no Barack Obama, and his Jaipur speech wasn't his Obama moment. We should avoid over-stated expectations from the average leader, notes B Raman.
January 16, 2013
Govt's tough stand against Pak is a pre-poll charade
Ahead of the 2014 Lok Sabha elections, the new government activism is to deny the Bharatiya Janata Party any gains from the killing of two soldiers along the Line of Control by Pakistan, writes B Raman
January 15, 2013
Government indifferent towards honour of ex-servicemen
The inept handling of the situation that followed the brutal killing of two Indian jawans by the Pakistan army has drawn attention to the insensitivity and casualness of successive governments towards our ex-servicemen, says B Raman
January 09, 2013
Sensitive nature of the trans-LOC ground realities
The serious nature of the latest incidents underline the need for a political hotline between the prime minister of India and the president of Pakistan, says security expert B Raman
January 06, 2013
Pakistan's new military doctrine shouldn't be misread
Media reports emanating from Pakistan's civilian government as well as from the General Headquarters of the army speak of an on-going review of Pakistan's military doctrine in order to give priority to the creation of a sub-conventional warfare capability to fight domestically against non-state actors posing a threat to Pakistan's internal security.
January 05, 2013
Show no leniency to juvenile rapists
Replace the Delhi police commissioner and treat the juvenile accused of gang-rape of the 23-year-old braveheart with the same severity as adults, says B Raman
December 30, 2012
Crime against women in Delhi: What next?
The government should separate the recommendations relating to the Delhi police from those relating to other states and set up a fast-track implementation mechanism to tackle crime against women, says security expert B Raman
December 25, 2012
UPA government continues to remain clueless
The Union government headed by Prime Minister Manmohan Singh and Congress president Sonia Gandhi continues to be clueless on how to deal with the situation arising from the mass outrage of the youth of the country in the wake of the gangrape of a 23-year-old girl in the national capital, notes B Raman.
December 24, 2012
When justified outrage degenerates into anarchy
It is important for our youth to realise that whatever be their anger and outrage, they cannot take the law into their own hands. The police have a duty to perform in maintaining law and order and should be allowed to do so, says B Raman
December 19, 2012
Why not treat rape as an offence like terrorism?
If rape is categorised as a heinous offence to be treated on par with terrorism, this would lead to changes in the way we react and deal with it. B Raman examines
December 17, 2012
Malik's India visit: How naive can we be?
For India to expect that Pakistan Interior Minister Rehman Malik and his police will act against the ISI-protected Lashkar-e-Tayiba is to live in a fool's paradise, says security expert B Raman
December 10, 2012
Narendra Modi is part asset, part liability
Narendra Modi has not yet shown signs of being a likely statesman or leader of vision and wisdom. We must avoid a judgement on his suitability till we have seen more of him as a leader outside Gujarat, says B Raman
November 28, 2012
Challenges before India's new intelligence chiefs
Protection of our national security and other critical infrastructure from cyber threats orchestrated by State and non-State actors is now an important task of the intelligence community as a whole. The new chiefs of Intelligence Bureau and the Research and Analysis Wing will be required to play a leadership role in the matter, says B Raman
April 23, 2013
Chinese intrusion is a matter of concern, not alarm
We have seen greater Chinese activism in the South and East China seas, but not across the Sino-Indian border. If the Chinese troops stay put in the Burthe area and construct defensive structures, that will be an indicator of their deciding to follow a similar policy of activism across the Sino-Indian border, says
B Raman.
November 26, 2012
26/11, four years on: The unfinished tasks
As India observes the fourth anniversary of the 26/11 terrorist strikes in Mumbai, there are many unfinished tasks to which attention needs to be drawn, says B Raman, India's leading expert on couter-terrorism.
August 14, 2012
Why it is tough to trust the ISI
There have been three interactions between R&AW and the ISI before reveals B Raman, warning of the perils of dealing with the treacherous Pakistani spooks.
July 19, 2012
Minority prejudice: We don't need to learn from the West
The disturbing phenomenon that we have been seeing for some years is alienation of our minorities due to accumulation of unaddressed grievances. Unless these are addressed sincerely and effectively, this could degenerate into radicalisation, warns B Raman.
July 01, 2012
How to handle collateral deaths in anti-Maoist operations
If the government does not take the precaution of verifying the facts and circumstances of operations resulting in large fatalities and if these prove to be wrong, the resulting embarrassment will damage the future effectiveness of counter-insurgency operations, writes B Raman against the backdrop of the June 29 anti-Maoist operation in Chhattisgarh.
Abu Jundal arrest: Saudi's changed attitude towards LeT
Action against Abu Jundal does not mean a dilution of Pakistan's geo-strategic importance for Saudi Arabia. Pakistan continues to be as important to Saudi Arabia as before, says B Raman.
May 27, 2012
Tough task ahead for the new COAS
General V K Singh, who will be retiring as the chief of the army staff on May 31,2012, will go down in history as a highly competent General, who did not deserve to be the head of the proud Indian Army despite his excellent record in the battle-field against our adversaries, writes B Raman
May 26, 2012
India should supply energy to power-starved Myanmar
Prime Minister Manmohan Singh during his visit to Myanmar should offer to help its government on an emergency basis to increase the power supply in the country.
Archives
2010-2011
|
2009
|
2008
|
2007
|
2006
|
2005
|
2004
|
2003
|
More