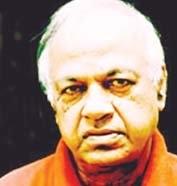 Bahutkumbi Raman, one of the founders of the Research and Analysis Wing, India's external intelligence agency, and one of India's foremost security experts, passed away in Chennai on Sunday evening after a prolonged battle against cancer. He was 77.
Mr Raman was a prolific writer on terrorism and internal security, and was a regular contributor to Rediff.com till the very end.
We will miss him as a dear colleague and a friend.
You can read Mr Raman's columns on Rediff.com here.