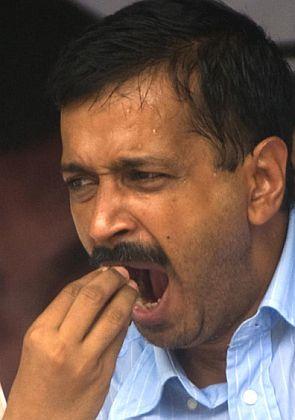 Arvind Kejriwal is visiting Bangalore on Saturday. And already making headlines is Kejriwal's fundraising dinner, which is expected to raise Rs 40 lakh for the Aam Aadmi Party through 200 people who will dole out big bucks to dine with the AAP chief.
Prithvi Reddy, AAP national executive member, however, clarifies that the Rs 20,000 per head dinner is not about eating food worth that much -- it will be a simple dinner and a fund raiser.

In this interview with rediff.com's Vicky Nanjappa, Reddy speaks about his party's plans in Karnataka

There has been some criticism over the Rs 20,000 dinner with Kejriwal organised by AAP candidate and former Infosys director Balakrishna. Your thoughts.

A programme of this nature is being carried out for the first time in Indian history.

Election funding by the BJP and the Congress has been shady and together they are unable to account the Rs 3,700 crore collected by them for the elections.

They are not telling us or the people how that money was raised.

We are trying to set a new tradition where clean politics needs clean money.

The money at the fund raiser will be paid through cheque and those contributing will have no strings attached.

The people will be told how and where the money came from.

The Rs 20,000 contribution does not mean a dinner worth that much. We will give them a simple dinner.

What is your agenda for Karnataka?

Unfortunately, Karnataka, today, is termed as a corrupt state. We as a party want to offer the state's voter a choice of a clean candidate.

Voters will no more have to choose between the devil and the deep sea, as they will have a clean candidate to select from the Aam Admi Party.

We have already announced 13 candidates, who are head and shoulders above the rest and have contributed heavily to the development of the state.

None of them have political experience. Will that be a drawback?

That will not be a drawback; we have shown that in Delhi too. The idea is to field candidates who are the right people to represent the people.

The people will be told that the voting will be on clean governance instead of muscle power and caste-based issues.

What does Kejriwal propose to do in Karnataka? What will be his trump card while addressing the voter?

First and foremost, we do not have the money to carry out a traditional campaign.

We will have jan sabhas where issues will be discussed on a one-on-one basis.

Kejriwal will tell the people that he is not here to make traditional promises such as better roads and drainage, as this is the job of the local government and not the MP.

We want to promise clean, transparent and good governance to the people.

In the two days that he is here, he will cover all the three constituencies in Bangalore and Chickballapur.

We intend covering 800 gram panchayats during our campaign and Kejriwal will come back to Karnataka once more. Our intention is to ensure that we are in this for a long term.

The BJP accuses your party of being a B team for the Congress. Is this right?

When we spoke about Robert Vadra, the Congress accused us of being a B team for the BJP. When we spoke about Narendra Modi and Yeddyurappa, the BJP accused us of being a B team for the Congress.

But then when we spoke about Ambani, none of the parties said anything.

We are against corruption in any form.

We are against the BJP taking Yeddyurappa back and the Congress inducting Roshan Baig and D K Shivkumar into the Karnataka ministry.

We are, however, confident that the people of Karnataka will recognise who the good guys are.

Will you float candidates in all 28 parliamentary constituencies in Karnataka?

The intention is to float a candidate in all 28 constituencies and we will do that for sure.

We have announced a list of 13 candidates already and will finalise the rest soon.