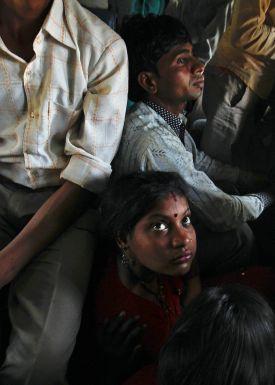 Mutual suspicion and prejudice hang over India and its neighbours, says Barun Roy.
If promises and pronouncements could transform a nation, India should have been overflowing with milk and honey by now. Sixty-six years ago, we began our tryst with dreams -- daydreams -- for a golden tomorrow where there would be no want or hunger, no injustice or inequality, where human dignity would be upheld and opportunities for a better life would be open to every citizen, as much in the buzzing cities as in the remotest of villages.
For 66 years we've been promised that future, always assured it's just round the corner. And, after the drumbeats of "India Shining" in 2004, we're hearing a fresh round of promising roars, now going by the name of "Bharat Nirman" (India Builds) and assuring us we're almost there.
Over the next months, in print and on TV and radio, floods of propaganda will be washing over us, telling us how well we're doing across the gamut of development, in education, health, rural employment, social welfare, delivery of services, empowerment, and how we all have a stake in the great exercise of building India.
The stated purpose is to put the development narrative back in focus and highlight the fact that the United Progressive Alliance's "Bharat Nirman" is qualitatively different from the National Democratic Alliance's "India Shining".
But the trouble is, few people believe this narrative and fewer still have the patience to read through tight texts of print or care for what's being said on the audio-visual media. It's all a waste, more so because the achievements being touted have little connection with reality and haven't changed the prevailing mood of the nation, which is one of disillusionment, helplessness and despair.
These achievements exist in official files and documents, only to help governments blow their trumpets in public and feel self-satisfied. Yes, India certainly has changed over the decades and affluence has grown among pockets of people and places, but the truth is 66 years of independence have failed to produce a happy, positive nation marching with confidence towards its future.
India remains, in V S Naipaul's words, a nation of a million mutinies, always on the boil with divided loyalties and interests. Development isn't the first thing that comes to mind when India is discussed at home or abroad.
What comes to mind are a lack of direction and purpose, a creeping sense of drift, partisan politics, caste violence, racial hatred, farmer suicides, malnourished children, scams and frauds and corruption, crumbling institutions, and a scant regard for the rule of law.
A strange mantle of anger and restlessness has descended over the country and refuses to lift, and the louder the drums of propaganda beat, the more hollow the development narrative sounds.
If that's the India story, the rest of the sub-continent isn't much different either. It's still an area of darkness outside the Asian circle of hope. There's Pakistan, whose reputation is more as the most dangerous country in the world than as one where real development is changing the real lives of people.
The recent democratic, though violent, elections, which have brought Nawaz Sharif once more back into power, continuing a previous spell of democratic civilian rule, certainly provide a reason for hope, but the society is too embroiled in violence, fanaticisms, and bigotries to raise any lasting cheer.
Bombings, killings, and terrorist strikes are the order of the day, and voices of secularism are drowned out by the increasingly strident battle cries of religious fundamentalists.
And there's Bangladesh, another benighted spot where the hopes and dreams of the 1971 liberation war now lie virtually shattered. The dreamers are still around, though, and trying to salvage some of the lost hope, but that effort is taking the form of an unsettling fight against a relentlessly rising wave of religious extremism spreading across the country, dictating its politics, and forcing its minorities into a state of perpetual fear.
As general elections approach in a year's time and the political parties seek to consolidate their respective positions, the situation is bound to worsen and will remain volatile till Bangladesh reaches a conclusion in what's turning out to be essentially a fierce battle for identity.
What sours the South Asian story even more is a climate of mutual suspicion and prejudice that prevails over it. India is suspicious of its neighbours as the neighbours are of India. It's a climate that blurs vision, diminishes the courage to reach out, makes economics a slave of narrow politics, and wilts the will to combine efforts for the greater good.
Some of these suspicions and prejudices are so deeply rooted in history that they hardly seem likely to be weeded out even in a hundred years.
As a result, a vast, resourceful area that could have become a buoyant common area of economic good remains an area hopelessly imprisoned by internal and external divisions of all imaginable kinds.
Image: Passengers sit on the floor while travelling inside an overcrowded general class compartment of the Kalka Mail
Photograph: Danish Siddique/Reuters