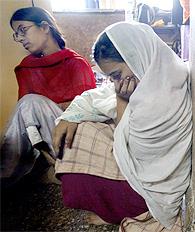 The probe in the Ishrat Jahan encounter case has drawn clear battle-lines between the Central Bureau of Investigation and the Intelligence Bureau after the CBI named IB official Rajinder Singh in its charge-sheet.
Several top officials of Gujarat police and aides of state Chief Minister Narendra Modi have been named in connection to the case. The Bharatiya Janata Party, as well as its top leaders like Modi and Jaitley, have criticised the agency for allegedly going after party leaders.
"We have only built a case based on the evidence. We will prosecute anyone who is involved in the case," said an officer with the CBI.
"We have evidence about the involvement of some IB officers who had allegedly provided weapons for the fake encounter. Our case is strong and based on genuine evidence," he said.
The IB has not taken too kindly to the CBI implicating its officer. The agency had provided the initial input about some Lashkar-e-Tayiba operatives planning the assassination of Modi.
But, an IB official pointed out, the role of the agency is to merely provide an input, not order an encounter
"Why is there an argument about Ishrat Jahan's antecedents when the investigation of (26/11 terror strike convict) David Headley clearly states that she was a Lashkar operative? The IB had acted on a very specific input," he said.
Some officials believe that an investigation should be undertaken to clear the doubts concerning the IB's alleged role in orchestrating the encounter. At the same time, they warn that such a probe should be done with due diligence as false charges and blame games between premier agencies is likely to act as a deterrent when the IB has a valid input to share next time.
While some such inputs are accurate and spot on, others are vague and it is up to law enforcement agencies to work out if the input is worth acting on, said the official.
The CBI is trying to avoid any confrontation with the IB. But the agency has decided to complain to the Gujarat high court that the various statements being made by political leaders are affecting the case.
Image: Zeenat Jahan Raza and Nuzhat Jahan Raza, sisters of slain 18-year-old Ishrat Jahan, react during an interview | Photograph: Arko Datta/Reuters