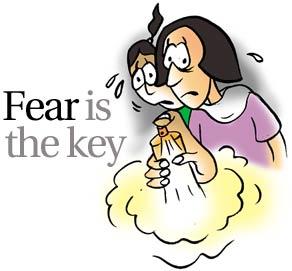 Saaanyaaa," wailed my soon-to-be sister-in-law.
We were alone in the house and her cry was one of sheer terror.
I rushed out of the kitchen, where I had gone to keep my plate, and saw her standing frozen in front of the washbasin, the remains of her lunch crusting on her fingers.
"Cockroach," she whispered with a shudder. Nestled in the white basin was a horribly healthy looking specimen, waving its antennae merrily.
I took a couple of steps back. If there was one thing in the world I abhorred, it was those awful insects -- those monstrous flying roaches.
"Do something," she hissed.
"No way," I replied. "I'm too damn scared. I'll just wash my hands in the kitchen."
"But how can we stay in the house? What if it comes flying at us?"
I could barely suppress a shudder. "Let's go for a walk," I suggested brightly.
"In this heat?" she looked at me as if I was crazy. "Besides, I don't have the keys."
We decided to tackle the problem together. We tiptoed gently backwards into the kitchen, praying we wouldn't startle the antennaed beast. In the cupboard, we discovered our saviour -- a nearly full can of Hit.
"Okay," said sis-in-law bravely, "you do it."
"What?" I yelped. "This is your house. You do it."
"No way," she said. "You're older." Wonder why that never occurred to her before! "You're supposed to take the risk and protect those who are younger than you." Ah! Now I know.
Armed with Hit -- and with sis-in-law hiding behind me -- I slunk back to the washbasin. I took a trembly aim and sprayed the basin with half the contents of the can.
Of course, we waited for my fiancé to come and clear the resultant mess!
Saanya Varma, Bangalore
Vroom! Vroom! CRASH!

Vijay came riding an old Kawasaki Bajaj he had borrowed from someone. "C'mon," he grinned. "Let's teach you how to ride." He seemed to be in an expansive mood. Who wouldn't be when someone else paid for the petrol?
We went to an empty ground near our house in the JNU campus and he initiated me into the joys of riding. I knew cycling, so the intricacies were limited to learning the gear and the clutch. Since it was an old bike, he asked me to rev it up so it wouldn't splutter and die.
The next day, my friend Karan came to college on a brand new Kawasaki Bajaj (He had bought it the previous day). I could not resist asking him for a ride. Confidently, I revved it as I had done in the previous day's practice session and went flying into the air.
As we came crashing down, I tried to brake and, in my nervousness, revved it instead. The bike bucked again.
When we finally reached the ground, Karan was inconsolable. The headlights of his new bike had cracked and the side fenders were twisted. I've never driven a bike since.
Aby V Koshy, New Delhi
It's my seat!

Living in a school hostel can be fun, particularly when you consider the late night escapades. We were in Class X and tremendously excited about a live show by Gurudas Mann at a nearby auditorium. I was an ardent fan of Punjabi music and didn't want to miss it.
The only problem was that the show was scheduled for 10 pm, which was way after our curfew time. Even if I managed to sneak out of the hostel, the tickets were out of my reach. But God always sends an angel when his devotees are in need. A classmate had an extra ticket and offered it to me.

It was dark outside on the night of my big adventure, but the venue was nearby. To add to my delight, I met my classmate at the entrance itself! The hall was jam-packed. Getting a seat seemed next to impossible. Luckily I managed to locate one empty seat in the rear of the hall.
Sharing a chair, however, proved uncomfortable, so I moved as soon as the adjacent seat became empty. But I was promptly rebuked by an irate, middle-aged man with a huge belly. I tried reasoning with him but he refused to budge, saying the seat was reserved for one of his relatives.
I lost my patience and told my friend I would need his help. We decided to get up together and protest until this bully relinquished the seat. As we turned to glare at him, my friend suddenly froze. "Hi, Dad," he mumbled before sinking back into our seat.
Nitish Aivalli, New Delhi
Brave? Me? Naah!
We used to live in a small town near Mangalore in Karnataka. I used to look forward to my uncle's visit, because he always bought me my favourite sweet -- son papdi.
When it was time for him to return to Bangalore, I threw my usual tantrum. I was a precocious eight year old and refused to

listen as my parents prepared to walk him to the nearest bus stop. Finally, they decided to leave me at home. I said I was brave and didn't care.
Five minutes after they left, there was a power failure! The house was in complete darkness. I forgot all about my tantrum as I ran to the bus stop in my petticoat -- crying, shivering and scared!
Till date, I am not allowed to forget this example of my bravery.
Smitha Kaje, Esfahan, Iran
ALSO IN THIS SERIES
Mobile madness
What do you think?
Boys will be boys
Sugar free!
'When you need something, you must keep crying'
Meet the parents
Money, money, money
'Main Atal Bihari Vajpayee bol raha hoon'
'Hara Haara'
Who is your daddy?
Illustrations: Uttam Ghosh