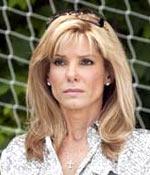 Before we begin this review, it's imperative to clarify -- at least for the sake of those who aren't already aware -- that The Blind Side is technically a sports movie, rather a story of relationships with sports as a backdrop.

The makers have made it clear that the movie is based on a true story, a story of a sportsman's triumph.

Now there are two basic problems with such sports-based movies. First, they chart a predictable path. Secondly, in most cases, the director fails to recreate the actual drama, the emotion that you feel while watching sporting action live.

The Blind Side suffers from both these problems.

It is everything that these kinds of movies are supposed to be -- the story of an underdog, a saga of the triumph of human spirit against all odds and an account of how interpersonal relationships influence performance at the professional level.

A director, who has already burnt his fingers attempting a sports movie, helms it. John Lee Hancock, having prior experience of directing a sports flick (The Rookie, 2002), returns to familiar terrain after the disastrous The Alamo (2004).

However, to its credit, The Blind Side is an honest attempt, a movie that whips up enough drama to sustain attention, despite its predictability and slow pace.

The movie is based on the book The Blind Side: Evolution of a Game, a work of author Michael Lewis that was first published in 2006.

The director and his team have succeeded in making a decent adaptation, palpably taking a few cinematic liberties en route and adding dollops of melodrama to evoke pathos. The end result is a product that even if is not entirely engrossing, is definitely thought-provoking.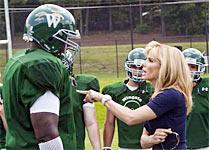 The movie narrates the story of Michael Oher (Quinton Aaron), an oversized African-American destitute with a troubled past who is adopted by Leigh Anne (Sandra Bullock) and Sean Tuohy (Tim McGraw), an affluent couple.

As the movie progresses, we witness a sequence of events starting from Oher's impoverished upbringing, his lack of confidence, his years at Wingate Christian High School, his adoption, his struggle to adapt in a predominantly white set-up and finally, his rise in ranks as one of the most highly coveted prospects in football -- ending with him being drafted as an offensive lineman for the NFL side Baltimore Ravens.

At the outset, Oher is shown as a teen with no academic records but one who is accepted into the local school simply because a football coach thinks he has potential.

Oher is intimidated in the mostly white surroundings of his school and is even described in one scene as 'a fly in the milk,' one of the few direct instances with racial undertones.

It is only after their son Sean (Jae Head) befriends Oher that the Tuohys first offer him temporary shelter and subsequently adopt him.

Oher's poor grades prompt his adopted parents to hire a private tutor Miss Sue (Kathy Bates) to help him with his academic troubles. And the latter ensures the teen secures good enough grades to make the football team.

However, having made it to the team, Oher has trouble adjusting to the brutality of the sport. And it takes his adopted mother's wisdom and encouragement to help Oher understand his objective as a player and attain subsequent success.

Oher's relationship with the Tuohy's works two ways. While the latter help him fight his inner monsters and fulfill his potential, Oher's presence in the Touhys' lives leads them to some insightful self-discoveries of their own.

There's also a sub-plot regarding Oher's biological parents thrown -- of a father who left before Oher was born and a mother who is a drug addict. But that fails to make any major impact to the narrative.

The movie has a few powerful moments that succeed in leaving a lasting impact and valiantly attempts to address a few issues simultaneously. On the negative side, at over two hours, it is a tad too long.

Coming to the performances, McGraw excels as a henpecked husband and provides the comic relief in an otherwise dramatic set up. Jae Head, as the Tuohy's son, is impressive. So is Bates. 

Aaron, starring as the protagonist Oher, literally lives his character of an introverted, withdrawn teen struggling to come to terms with his incapacities and surroundings.

The actor doesn't get to speak much but his eyes do express his internal feelings effectively. Suffice to say it is not an exceptional performance but an earnest effort nonetheless.

And finally, regarding the performance that has won at the Golden Globes and Screen Actors' Guild awards -- Sandra Bullock has come a long way from the days she played a sidekick to Sylvester Stallone (Demolition Man). From driving a bus in action movie Speed, to struggling with thrillers (The Net, Murder By Numbers) to excelling in rom coms (While You Were Sleeping, Two Weeks Notice, The Proposal), comedy (Miss Congeniality) and drama (A Time To Kill), Bullock has made repeated attempts to impress critics without succeeding in many.

However, in this movie Bullock finally gets a character that she can sink her teeth into. To her credit, she does her part commendably, playing with panache a woman who isn't afraid to speak her mind and who exactly knows what she wants.
Will she win at the Oscars too? Her fans need to be patient for that, a virtue that is also required in abundance while watching this film.

Rediff Rating: