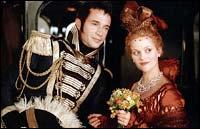 M
ira Nair's ambitious 
Vanity Fair
offers a
feast to the eyes
, thanks to sharply etched performances by veteran British actors. But the film progressively loses its focus as a social satire. It also fails to ignite poignancy and passion. And with so much happening in the last quarter, it may confuse some viewers.
Viewers familiar with William Makepeace Thackeray's darkly mesmerising novel might find the film too exuberant. Others may find its exuberance and exotica a virtue and embrace it with enthusiasm, turning it into a medium-range hit.
Turning a 600-page book into a film can never be an enviable task. Thackeray's novel revolving around an amoral, and at times, a slightly cruel heroine, was serialised in the mid 19th century and was immensely popular. It surely poses a daunting task to any filmmaker and adapter.
The three scriptwriters including Oscar-winner Julian Fellowes, who worked on this project, have not really helped Nair in creating a sharp portrait of a hypocritical and materialistic age.
The emphasis on costumes, music and scenery is, at times, so overwhelming that the film's soul seems to have withered.

Reese Witherspoon stars as Becky Sharp, a seductive, complex and determined woman who cannot forget her impoverished childhood. She uses her beauty, sensuality and sharp senses to survive and prosper in a highly regimented England in the early 19th century. An enigmatic and dark character in Thackeray's book, she has considerably softened here.

Becky schemes her way into the English upper crust as a governess, teaching the children of Sir Pitt (Bob Hoskins). In his mansion, she comes across his rich old sister Matilda Crawley (Eileen Atkins) who professes shockingly liberal values. Matilda invites Becky to live with her in a sprawling London mansion.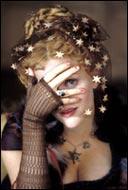 But when Becky marries Pitt's son Rawdon (James Purefoy), and cannot hide the secret, Matilda is startled. In no time, the surprise news turns into bitter anger and her class instincts come out naked. She throws Becky out of her mansion.

But Becky is not intimidated by the adversities.

Uncertain of the future, Becky also makes sure her wealthy admirers are humoured so that they can be her insurance if anything adverse happens to her.

As her survival drama continues, her childhood friend Amelia (a promising, relatively new actress, Romola Garai), sees her own world turned upside down.

Like Becky's husband, Amelia's husband George Osborne (Jonathan Rhys Meyers) is also disinherited by their families for having had the guts to marry someone below their status. With the death of her husband in the war, Amelia is forced to lead a life of poverty.

Becky is certainly a social climber and survivor but she is just another sinner in a society filled with heartless snobs and fortune hunters. It is a society that has started to enjoy the fruits of colonisation, especially from India. But it is also a society where the poor and lower middle classes have a harsh life, as the film makes it a point to show us from time to time.

As she continues her upward journey, the mistakes Becky makes in courting men costs her considerably. Her life takes a tragic fall.

The treatment of Becky Sharpe in the film is one of its biggest flaws. There is nothing wrong in presenting a character filled with contradictory impulses and actions but the script does not provide us heartfelt moments to make us love her now or offer disgusting revelations to dislike her the next moment. Despite Witherspoon's valiant efforts to make the character a powerful presence, Becky remains a distant and cold character.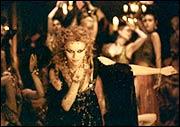 But what saves the film -- which had a brief shooting stint in India and is filled with considerable amount of Indian music -- is the work of British veterans. As the hypocritical Matilda Crawley, Eileen Atkins gives an indelible and energetic performance. Bob Hoskins is delightful as Matilda Crawley's scruffy, lustful and eccentric brother. Jim Broadbent is impressive as a mean, greedy and stubborn man who wants his son marry a rich woman instead of the comparatively lowly Amelia.

As the mysterious Marquees of Steyne, who is hovering around the edge but makes a dramatic impact in the movie only towards its end, Gabriel Byrne is compulsively watchable.

In a film filled with self-serving and scheming characters, a few incalculably good souls stand apart. Apart from Amelia, there is her silent admirer, William Dobbin played with decent sincerity by Rhys Ifans.

CREDITS:
Cast: Reese Witherspoon, Eileen Atkins, Jim Broadbent, Gabriel Byrne, Romola Garai, Bob Hoskins, Rhys Ifans, Geraldine McEwan, James Purefoy and Jonathan Rhys Meyers
Directed by: Mira Nair
Screenplay by: Matthew Faulk, Mark Skeet, Julian Fellowes, based on the novel by William Makepeace Thackeray