When I left the theatre after watching My Name Is Anthony Gonsalves, I overheard viewers around me saying, 'Picture toh achchi thi [the film was good].' So I wondered, 'So what was bad?'
Are we still looking for actors who look like Salman Khan? How can we forget this very industry has produced Shatrughan Sinha, Mithun Chakraborty, Shah Rukh Khan and Ajay Devgan? When these actors made their debut, they were good and even stylish, but did not have the looks to back it up.
Nikhil Dwivedi, who makes his debut in Anthony, shows potential, and may even do well if given the chance. He fits into the tagline of the film: An ordinary man with extraordinary dreams.
The film is slow in parts, but picks up in the second half. The story goes like this: A tapori called Anthony works as a bartender, but wants to become an actor. He is an orphan and has grown up in Father Brangaza's care. The person who found Anthony and delivered him to Father Braganza is the big don, Sikhanderbhai.
When Anthony learns of an movie audition, he tries his luck, and gets selected. But Anthony becomes a witness to a murder, and his world is turned upside down. Differences arise between his mentor Sikhanderbhai and himself. Watch the film to know what happens next.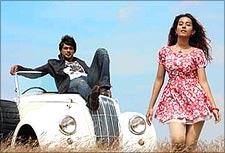 Besides Nikhil, the other character who does well is Pawan Malhotra, who plays Sikhanderbhai. But then Pawan has never disappointed us -- whether he played Hari in the popular television series Nukkad, or the menacing Tiger Memon in Black Friday.
Anupam Kher as Seth Murtuza does a good job as well, as a don who sings old classics. Mithun Chakraborty, Dayashanker Pandey and Mukesh Tiwari are good too.
Amrita Rao simply has to look good, and that, she does.
Director E Niwas's film has the simplicity and comedy of Love Ke Liye Kuch Bhi Karega, as well as cool chase scenes like we saw in Ram Gopal Varma's Satya. The movie packs in action, dance, drama, comedy and tragedy. But will it hold its own against this Friday's other release, Halla Bol? Will Nikhil Dwivedi's uncoventiional looks match Ajay Devgan's star status? While it seems unprobable, Anthony is worth a watch.
Rediff Rating: