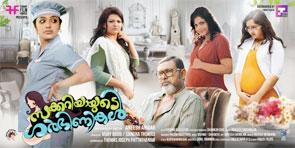 Director Aneesh Anwar's Malayalam film Zachariyayude Garbhinikal is about four pregnant women and a gynecologist.

Fathima (Rima Kallingal), Saira (Sanusha), Jasmine Jennifer (Geetha) and Anuradha (Sandra Thomas) play the protagonists. Their stories are linked together by their pregnancies.
Susan (Asha Sharreth) plays another vital role in the film.

Aneesh Anwar, who has earlier made Mullamottum Munthiricharum, has written the script as well.

The film is produced by Vijay Babu and Sandra Thomas under the banner of Friday Film House. Vishnu Narayan wields the camera and Vishnu-Sarath are the music directors.

Actor Lal, who plays the gynecologist in the film says, "This is a genuine film that links the stories of a few women."

Recently Blessy's Kalimannu had created controversy after the lead star Swetha Menon's real life pregnancy delivery was shot for the film.

Aneesh says that he was aware about the film's theme when he started his own project, but decided to proceed, as there were absolutely no similarities between the films.

Zachariyayude Garbhinikal will release this weekend.