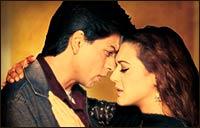 S
teadily marching on its way to be the biggest
desi
film ever in North America and United Kingdom,
Veer-Zaara
has grossed about $5.2 million in both territories in about 17 days. The film, which declined by about 38 percent from its previous week in UK and 26 percent in North America, is bucking the standard attrition pattern.
Most
desi
films -- with a few exceptions like
Kabhi Khushi Kabhie Gham
and
Taal
-- lose about 50 percent of their box-office clout within the first two weeks or so.
At its current rate of box-office decline, Veer-Zaara may reach the $6.2 million mark in the two markets in less than three weeks, even if Swades commands the box-office when it releases on December 17. By then, Veer-Zaara would have overtaken K3G.
Informal interactions with cinegoers in Manhattan, Queens and New Jersey reveal that apart from what many described as heart wrenching melodrama, lingering music and a cast led by Shah Rukh Khan, the presence of Amitabh Bachchan and Hema Malini also boosted the film's appeal.

"We have seen Amitabh in too many films in the past year or so," said a fan. "But here, his role is very good and his scenes with Preity Zinta are very touching." 

Pakistani viewers said they were thrilled to see Pakistani characters shown as dignified and caring, except for the status-conscious fiancé (played by Manoj Bajpai). "But then this is a Bollywood film," said another fan. "It had to make a Pakistani character the villain. Even then, we are glad that at least it shows us as human beings."

With a second bumper weekend yielding over $1 million on both sides of the Atlantic, Veer-Zaara distributors decided to keep the film going into the next week with almost the same screen count. The film showed on 83 screens in North America while it lost 10 screens in United Kingdom. But it was still showing on 50 screens there, an impressive number.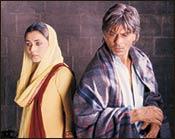 "We did not expect the collections to come down in a big way in the subsequent weeks, especially in view of the forthcoming Thanksgiving weekend and held to the same number of theatres," said Jawahar Sharma from Yash Raj Film's New York office.

In North America, the SRK hit started at the 15th position on the box-office chart and stayed at 18th position for the following two weeks.

In the United Kingdom, it started at the fourth position, went down to the sixth in the next week, and is now at the eighth. Though it is shown in far lesser screens in UK than in America, it has grossed about 10 percent more in UK.

With Swades looking to be yet another hit for him, Shah Rukh Khan's reputation abroad is getting consolidated with every film. He stars in three of the four superhits in 12 months -- Kal Ho Naa Ho, Main Hoon Na and Veer-Zaara.
While Hrithik Roshan's Lakshya did excellent business in UK and USA, with a gross nearing $1.6 million, it could not match the unexpected hit Hum Tum.

With Veer-Zaara turning into a superhit and Hum Tum already having made pots of money, the Yash Raj banner has had a solid year abroad. If only Dhoom, a big hit in India, had become a money earner abroad.