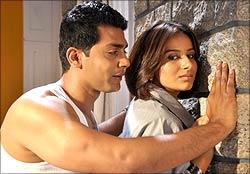 Shruti Indira Lakshminarayana reviews Nee Illade. Post YOUR reviews here!
Pooja Gandhi and Raghu Mukherjee team up for the first time in
Nee Illade
, a Kannada film directed by Shivaganapathy.
Sanjay (Raghu) develops a liking for Sharanya (Pooja), a recluse.

Sanjay is a singer and as luck has it, Sharanya's hidden talent is also singing. He convinces Sharanya to join his amateur band and they even manage to land a slot on a popular radio channel -- their ticket to success.

Only Sharanya fails to turn up on the big day. An upset Sanjay goes looking for Sharnya to find her as drunk as a fish!

A look at her and anger takes the backseat and Sanju gets down to nursing her.

Sharanya soon finds herself liking Sanju and is all set to marry him.

If only her past in the form of Muna, hadn't come calling!

With the other man's entry, you hope for the film to gain momentum, but it only plunges into further darkness and that too literally!

The story, that has nothing fresh to offer, is plagued with such bad lighting it is almost like a 'spot me in the dark' contest.
Pooja Gandhi would have liked to start this year with a good film. However like her previous films, the story of this one too lets her down.
The actress has a prominent and a bold role but does little to stand out.
Raghu Mukherjee who charmed his way through Savaari plays a boy-next-door role in this film. Sadly his character isn't very strong. The others aren't even worth mentioning.
The comedy is so sad that even Bullet Prakash does little to make you laugh!
There are attempts to imitate actor Saikumar style of dialogue delivery and Shivamani style music but neither makes an impact.
The film's music is nothing to boast of either. In fact, an item song picturised in the middle of a mine couldn't have gotten worse.
Dialogues are old fashioned and the climax is nothing great either.
All in all, Nee Illade has nothing going for it.
Here's hoping Pooja and Raghu make better script choices in the future.
Rediff Rating: