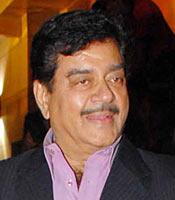 After undergoing a bypass surgery last year, Shatrughan Sinha [ Images ] is all set to make a comeback in films.
Sinha, who was last seen in Ram Gopal Varma [ Images ]'s Rakta Charitra in 2008, has quietly been shooting for a film titled Woh Aadmi Bahut Kuch Janta Hai.
Directed by Ahsan Hyder, the film is a suspense thriller with Rajeev Khandelwal [ Images ] in the lead and is being shot in Sri Lanka [ Images ]
When contacted, Sinha said it was a little too early to talk about the film, but admitted that he was shooting for the film.

The veteran actor was also supposed to do a film with Akshay Kumar [ Images ] but that project didn't materialise.

"Ahsan Hyder, who has made some documentaries in the past came, to me with this very powerful story and said only I could do justice to my part," the veteran actor says about his new project.
The details of the film are being kept under wraps.
Known for his unique dialogue delivery, the flambouyant actor says that Hyder's film takes him back to the old days when he played the leading man.

"My fans will be very happy with my part. It gives me a lot of scope for the kind of dialogue delivery I am known for."
The actor is all praises for his costar Khandelwal too.

"Rajeev is one of the most talented young actors I've worked with. He is very hard working and focussed on his work. I am happy to be doing this film."