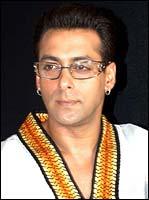 The Bharatiya Janata Party and its satellite organisations have taken up cudgels against Bollywood star Salman Khan.
On Thursday, newspapers published transcripts of telephone conversations purportedly between Salman and another Bollywood star Aishwarya Rai, in which Salman tries to bully her into performing for an event organised by gangster Abu Salem and threatens her with his underworld connections.
"It is a very serious issue and howsoever big, no artist is greater than the law. The government should take action against him if the allegations are found to be true," BJP spokesman Prakash Javadekar said.
The screening of Salman's film Maine Pyaar Kyun Kiya, which released today, was withheld in several cities in Madhya Pradesh. The first show of the movie was deferred in Indore, Jabalpur and Gwalior after protests and demonstrations by Bajrang Dal cadres, Inspector General of Police (Law and Order) A K Soni said. No loss or damage to theatres was reported.
Fearing violence, cinema hall owners and distributors voluntarily withdrew the screening of the film.
Though most tickets were booked in advance, the crowd turnout at the theatres was bleak as activists shouted
slogans, tore posters and burnt effigies of the actor in front of the cinema halls.
Security was beefed up in all cities in the state and senior officials were keeping a close watch over the situation.
"We will not resort to hard measures if the cinema hall owners keep away from screening the film of a traitor," BJP
Bhopal city convenor Devendra Rawat said.
BJP Yuva Morcha activists forced many cinema halls in Pune to cancel MPKK screenings. A large number of activists tore posters of the Hindi film at Vasant, City Pride and Rahul cinema halls, holding demonstrations against the actor, party sources said.
When the agitators went to the E-square multiplex, a large posse of policemen was already posted there to prevent them from disrupting the film. "Management of many cinema halls have given us in writing that they would not run the actor's new release, Maine Pyar Kyun Kiya," BJP Yuva Morcha city unit president Sandeep Khandekar claimed.
In Nasik about 100 BJP activists, including 20 women, were arrested Friday morning after they demonstrated against screenings of the film. The morning show was on in three halls in the city -- Mahalaxmi Talkies, Cinemax and Adlabs -- when workers gathered outside Mahalaxmi theatre and urged its owner to stop screening. Security has been tightened at the theatre.
Screenings in multiplex theatres -- Cinemax and Adlabs -- are on, theatre sources told PTI. Activists tore down posters of the film and threw cowdung on them.
In Nagpur, over 150 BJP activists gathered outside the Panchsheel theatre, which was screening Maine Pyar Kyun Kiya, and tore off the posters and broke the theatre's glass panel, sources said. The agitators fled from the scene before the police arrived.