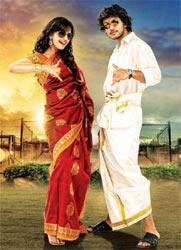 Yennamo Yedho, is a meaningless romantic comedy that makes a pathetic attempt to portray the emotional upheavals you go through in life before finding your true love, says S Saraswathi.
Gautham Karthik's dream of a perfect launch in the film industry with Kadal was shattered when the film by Mani Ratnam flopped miserably at the box office.
He is now acting in his second film, Yennamo Yedho, directed by debutant Ravi Thyagarajan, a former assistant to director Priyadarshan.
Gautham, being a third generation actor after granddad Muthuraman and father Karthik, is under pressure to prove himself and desperately needs a hit.
Sadly, this film too fails to make much of an impression.
Yennamo Yedho, the remake of a huge Telugu hit, Ala Modalaindi is a meaningless romantic comedy that makes a pathetic attempt to portray all the emotional upheavals you go through in life before finding your true love.
The director has attempted a light-hearted humorous approach, but the film ends up being frivolous and superficial.
Rakul Preet Singh plays the female lead supported by Nikeesha Patel, Anupama Kumar and veteran Prabhu Ganeshan, in a prominent role.
Yennamo Yedho opens on a sinister note with hired killer Chakravarthi (Prabhu), whacking Gautam (Gautham Karthik) on the head with an iron rod, knocking him unconscious.
When Gautam wakes up, he is in a speeding car on a highway, with Chakravarthi threatening him with a gun.
This perhaps is the only exciting part of the film. The rest of the story is in the form of a flashback by Gautam, who is narrating his extremely boring, silly and never-ending love story to Chakravarthi.
Gautam and Simran are in love, but Simran falls for Dr Anand and happily ditches Gautam, as she prefers a doctor for her partner.
At their wedding, Gautam meets Nithya (Rakul Preet), who incidentally has been rejected by the very same doctor, for being overweight. She has now lost tons of weight and hates him for dumping her.
They are both sympathetic towards each other, get drunk and abuse their former lovers. Now Gautam falls head over heels for Nithya, but he is in for a rude shock, when out of nowhere appears Nithya's fiancé, Raja.
Gautam grieves for a couple of scenes and then promptly falls in love with Kavya (Nikeesha Patel), a veterinarian. Meanwhile Nithya, who finally acknowledges her love for Gautam, returns, only to find Gautham almost engaged to Kavya.
Nithya is heartbroken but immediately agrees to get married to a boy her father has chosen. The story obviously does not end there; it just goes on and on.
Director Ravi Thyagarajan's dull and unexciting screenplay makes the performance of both Gautham and Rakul Preet look unremarkable. They seem to have worked rather too hard, and the result seems exaggerated and unnatural.
Even the comedy seems forced. Gautam's friends are totally bizarre and test your patience.
The charismatic Prabhu manages to evoke some laughter by his performance as a slightly quirky and harmless villain.
Yennamo Yedho is a mindless romantic comedy that does not evoke any empathy for its characters or the situations they are in.
The film gets no help from the technical department either. The music by D Imman is average and the film needs a lot of work in the editing department.
Yennamo Yedho leaves you totally bored and unmoved, an absolute waste of time.
Rediff Rating: