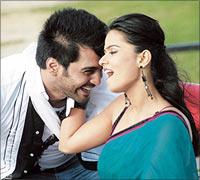 Pavithra Srinivasan says that the cast and the crew try to their best but nothing saves the Tamil film Mirattal.

If there was ever a movie that simply had no excuse even getting made, let alone shown on the silver-screen, then it would be Majestic Multimedia's Tamil film Mirattal, a remake of the Telugu hit, Dhee.

Directed by R Madhesh, the posters show Vinay and Santhanam cavorting together, as the comedian is obviously the biggest draw. 

Despite its family-friendly billing, Mirattal proves to be a collection of clichés. Despite having the comedian of the season trying desperately to enliven it, it makes you yawn.

A bulky don, Shankar Dada (Prabhu)? Check.
Said Don has a pretty sister Deepika (Sharmila) who is always unfailingly "studying" in some foreign locale? Check.
Deepika, despite being the sister of the most powerful Don ever known in the world, has seemingly no bodyguards and is always on her own? Check.
Loveable, adorable good-for-nothing-yet-cunningly-clever-hero, Bablu (Vinay)? Check.
Deepika and Bablu fall in love, naturally? Check.

Mirattal is one of those movies that has a premise, plot and execution that was old 10 years ago itself. Its dialogues, action sequences and romance are tacky; logic and rationale go begging; the characters don't do even cardboard cut-outs justice.

Santhanam, obviously a part of the project before he hit the big time, does try his best. Not that it does any good.

The technical team has done its capable best, but nothing shines in a movie like this.

It's almost as though director Madhesh felt compelled to direct the movie and did so, bored out of wits. Watch at your own risk.

Rediff Rating: