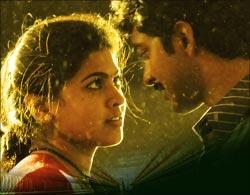 According to Pavithra Srinivasan feels that despite a good cast and interesting premise, Krishnaveni Panjaalai fizzles out on-screen

Movies like
Krishnaveni Panjaalai
produced by Minveli Media Works promise much. Directed by debutant Dhanapal Padmanabhan, the movie transports you straight back to a different era—the 1950s—and the tale of a mill, and the lives of several families that revolve around it. A very interesting premise with some promise, as it begins from 1957, skipping through decades to reveal their fates.
A mill owner (Rajeev Krishna) comes back home to Udumalaipettai, foreign wife in tow, to fulfil his father's last wish that he take over the mill.
He does exceedingly well and by the time our story opens in the '80s, the mill is flourishing, not to mention the mill-workers' families, among whom love blooms: Kathir (Hemachandran) and Poonkothai (Nandhana) are one such couple.
Over time, the mill begins to falter; workers are denied their yearly bonus, problems crop up. Kathir and Poonkothai's love affair appears to run into murky waters as well.
With a story like this, rich in history and a great deal of research, this movie ought to have been a classic –
but it isn't. Everything is referred to in the most superficial way; there is no insight into either the mill or its workings, or why the mill owner makes the decisions he makes.
There's no great insight into Kathir and Poonkothai or their romance either: they're already in love when the movie begins, and you're not invested in them or their success. Which is a pity, as all these stories, intertwined, would have made for a very compelling drama if handled right.
Despite the odds stacked against them, the cast does a reasonably good job. The actors suit their roles in looks and body language and have delivered credible performances.
The only person who does make an impact, character-wise, is Poonkothai's mother (Renuka), a caste-obsessed woman who simply cannot bear to see either of her daughters fall in love. Her morose silences and actions make for a far more intriguing story than the one that we're supposed to be watching on-screen.
N R Raghunandhan's music is mildly pleasant, but no chartbusters here; the placement of the numbers hinders the pace as well.
Despite a good cast and intriguing storyline, Krishnaveni Panjaalai doesn't capitalise on these strengths. Instead, it has one of those meandering screenplays that only look good on paper, and fizzle out on-screen.
Rediff Rating: