Mona Singh, who created waves with Jassi Jaissi Koi Nahi and Jhalak Dikhla Jaa, is back with a new show called Naya Roop Nayi Zindagi on Sony Entertainment Television. She will host the show, which is about individuals going in for a complete transformation.
The show is based on the popular US show Extreme Makeover where ordinary men and women undergo extreme makeovers involving plastic surgery, exercise regimes, hairdressing and wardrobe changes.
Rajul Hegde talks to Mona to find out more.
Tell us about the show.
The show documents the physical transformation of people. It gives them a once-in-a-lifetime chance to undergo a complete transformation with the help of cosmetic surgery, make-up, dentistry, dermatologists and personal trainers. The show hopes to change not only an individual's looks but his life as well.
How different is it different from other reality shows?
First of all, there is no winning or losing. There are no judges and there is no voting system. Unlike other reality shows, which are mostly about singing and dancing, this show intends to correct the lives of distraught individuals, facing stigma and loneliness due to their physical features. These are the people, who have been accepted by their families, but rejected by society.
What was the criteria for selection?
A team of experts have selected 10 people with extreme cases.
What made you take up this show?
When I was shooting for Jassi, I was told by the channel about a new show based on Extreme Makeover and that they wanted me to host it. I was excited because somewhere Jassi also started with the trend of a makeover. I think this kind of show has never happened in Indian television before.
How does each episode begin?
Each episode opens with the person's case history and how the entire process happened. After surgery and the recovery process, which in some cases takes several months, candidates will not be allowed to meet their family as the show requires their transformation be a surprise to family and friends. In each episode, the viewer will witness the agony and ecstasy of the participant and the final victory.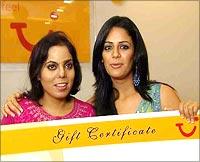 Any particular case which touched your heart?
As a matter of fact, there are three cases -- Jhony, Shameem and Slesha. Their lives have undergone a dramatic change after their makeovers.
Slesha, who had severe dental problems, dreams of becoming a model. She got to fulfil her wish after her stunning makeover.
Do you think you need to look good in order to be accepted and appreciated in society?
This show is of extreme makeover. The people, who have been selected, are not people with normal problems like their chin being too long or their lips are too thin. These are the people, who have actually been ridiculed because of their deformities. It's a noble cause with noble intentions.
Tell us about your experience in the show.
It was a challenging project for me and an emotional journey as well. We had difficult cases and I had to confront them. I needed to be calm and positive for the people on the show, which was not easy. The best part about the show is helping people solve their problems.
Will we see you in any soaps soon?
After doing a substantial role like Jassi, I wouldn't like to get involved in a typical saas-bahu role. So far there is nothing exciting.
Any dream roles?
Jassi was my dream role. I loved anchoring shows like Jhalak Dikhla Jaa and Naya Roop Nayi Zindagi. I would love to anchor Indian Idol.
Your beau Karan Oberoi has launched his own production house. Will you be working with him?
Karan has offered me a cameo role in his serial Haadsa but I don't know when I will be doing it. He is working hard since he is acting and producing the show.
He is playing a rough and tough cop in the show. I hope his production house becomes successful.
What about films?
I have a couple of movie offers but let me see what works out best. I will not quit television for films.