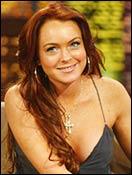 Want to know about the new man in Lindsay Lohan's life?
The 18 year-old star of Freaky Friday and Mean Girls told People magazine, "He is one of the best guys any girl could be with. He's really sweet. It's [Our relationship] very fun (sic)."
The 'he' in question is Wilder Valderrama (That '70s Show). Valderrama, who is six year older than Lohan, reportedly 'made the first move'.
Friends of the actress swear that Lohan is totally 'smitten' by Valderrama.
The couple was spotted getting cozy on Lohan's 18th birthday (July 2) till well past midnight at Hollywood's swanky nightclub Avalon.
Photograph: Kevin Winter/Getty Images