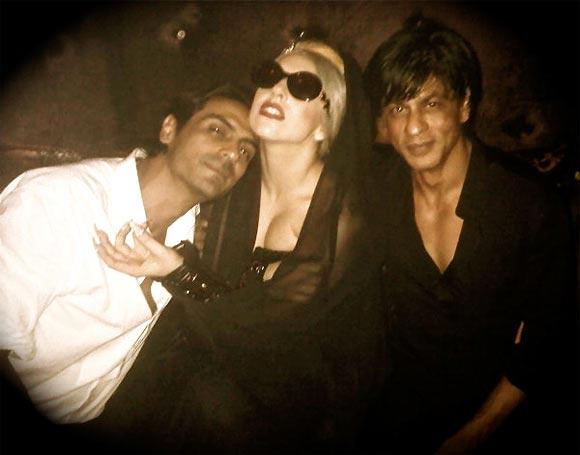 Arjun Rampal, who has just wrapped up the most exciting weekend of his life with pop icon Lady Gaga in New Delhi, missed Hrithik Roshan's presence at the do.
"I really wish Hrithik was there," Rampal says. "He would've had a blast. But he isn't allowed to travel. He has serious form of the slipped disc, which needs very careful recuperation. He can't fly. I missed him. But we had Shah Rukh Khan, Sonam Kapoor, Dino Morea, Abhishek Kapoor and Fardeen Khan, who incidentally, is a big Formula One enthusiast. He clued all of us in on the finer points of Formula One."
Apparently, Gaga and Arjun grew really fond of one another during the weekend. "I was completely bowled over by the kind of simple and pure human being she is under all that razzdazzle," Rampal says.
Gaga gave the actor a personal gift. "It was her personal Versace drinking-cup," Rampal says. "She carries it everywhere with her on all her world tours. She gave the cup to me. It was her way of showing how much she liked being in India and with us during that Formula One event."
Gaga had a gift for Arjun's daughter as well. "When Lady Gaga came to know my daughter liked her sunglasses, she immediately gifted it to my daughter. Lady Gaga has a way with people. She bridges the distance between her iconic status and the people around her effortlessly. It's a rare gift."
Arjun's wife Mehr Jesia gifted Gaga with Lord Ganesh's figurine.
"She squealed with delight and said she would keep it in her room everywhere that she toured from now on," Rampal says. "She's heavily into Deepak Chopak and Indian spirituality.
"We'd love to have her back," he adds. "She was comfortable performing in Delhi. She was supposed to perform a lot less songs than she finally did but she insisted on singing to her heart's content. We had 1,000 guests for her performance. After watching her perform, I understood why she was what she was."
Anxious moments for Rampal during the weekend? "Anything could have gone wrong," he says. "Though we had made every possible arrangment, suppose the sound had conked off? These things do happen. But they didn't. We've shown the world we can host a grand event like the Formula One without glitches. Lady Gaga's performance in my club was the culmination of a spectacular weekend."