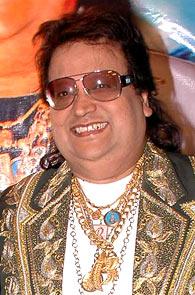 Bappi Lahiri, who recently celebrated Saraswati Pooja at his home, has decided to enter politics.

He explains his decision: "I am not going into active politics. Narendra Modi is showing a chamatkaar (miracle) in Gujarat, so when the BPJ invited me to join them, I decided to go for it. After 42 years of music, it seemed like the right time to use my status to do something for the (film) industry."

Through his political association Bappida says he wants to create funds for the old and needy members of the film industry.

"So many distinguished members of our film fraternity like Lalita Pawar, A K Hangal and OP Nayyar faced financial hardships before they passed away. We need to look after the old and vulnerable entertainers. If I can do anything to help Bollywood by being in politics, I think it's worth my while," he says.

Since his decision to join politics, Bappi Lahiri has been facing bizarre rumours of his death.

"Fans and friends from all over the world have been calling up," he says. "People have even driven down to my house, making anxious inquiries of my well-being. God knows why these people are doing this. It's in God's hands when we come on this earth and when we leave. But to spread ugly rumours of someone's death is a strange nasty way for workless people to entertain themselves. I suggest to such people to find more constructive ways to spend time -- educate a girl child, adopt a street dog or just listen to my new hit song Tu ne maari entry."

Brightening up at mention of the bouncy number, Bappida says, "When composer Sohail Sen and I were sitting down for the song, I suggested we incorporate Bengali lines into the song since the film is set in Kolkata. At that time, we didn't know Gunday was going to dubbed into Bengali, or that the song Tu ne maari entry would become so popular."
Looking back with pleasure at his career Bappida says, "I've been lucky. Massy songs like Bambai se aaya mera dost from one of my earliest films and Tu ne maari entry have been specially successful for me. I am blessed," he signs off.
Photograph: Pradeep Bandekar