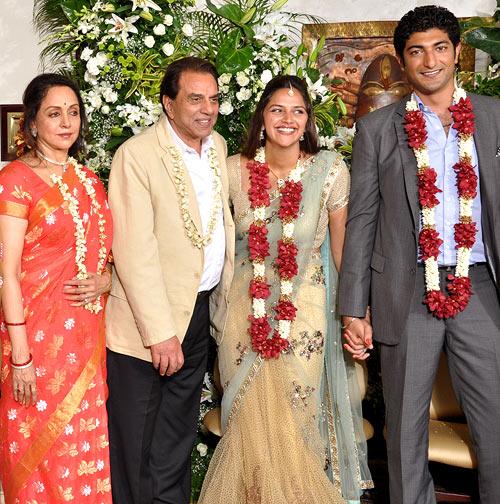 The day after Ahana Deol's grand wedding, her doting daddy Dharmendra was understandably emotional.

"To watch my youngest get married was an overwhelming experience," he says. "Ahana has always been very special to me. All my children are special but somehow, the youngest is the baby of the family. To see her get married was too much for me. But let me tell you, Ahana is very strong practical-minded girl."

"Now all my children are married and settled. I'm blessed. All the goodwill that I've earned over the years has finally come to fruition," Dharmendra adds.

The evergreen actor says his wife Hema Malini is far stronger emotionally than him.

"Hema took charge of everything," he says. "I was too dazed. It was a beautiful wedding. Everyone was there, including Narendra Modi. Shah Rukh Khan came even though he was injured. Many years ago, he was introduced in a film directed by Hema (Dil Aashna Hai). He has seen Esha and Ahana grow up."

At the wedding, Dharamji sorely missed some of his colleagues who are no more.

"I missed Devsaab (Dev Anand) and Suchitra Sen. He was very fond of both Hema and me. I still remember when I ran into him as a newcomer at Central Studio, where I was participating in a newcomers' contest. He beckoned me, 'Hey, tough. Come here.'

"Devsaab fed me lunch and refused to let me drink the studio water. It was the first time in my life that I saw an ice-box.
"As for Suchitra, she was a sweetheart. When we we were shooting for Mamta in Kolkata, she took me to the Kali temple early in the morning. She led me by hand as though I was child. I've met the most wonderful human beings in the film industry. Now many of them are gone. I missed them at the wedding," he says.
Meanwhile, Hema Malini says with a laugh: "My wedding happened very quietly and quickly. There was no time or occasion for a big ceremony."
"I told Dharamji, tension bilkul nahin lene ka (don't get tensed). I've told him to just relax and leave everything to me and my family."
Hemaji is hugely thankful for the gift of a dependable family. "This is why I've never felt any need for friends. My family is my friend. My brothers and their wives take care of everything. And now I've two sons to complete my family. People always reminded me that I've no sons, only daughters. But I want to tell them that now I have two sons. Both my sons-in-law are as good as my own sons," she says.
After the wedding, Ahana will move to Delhi.
In the picture: Hema Malini, Dharmendra, Ahana and Vaibhav Vora at the wedding. Photographs: Pradeep Bandekar