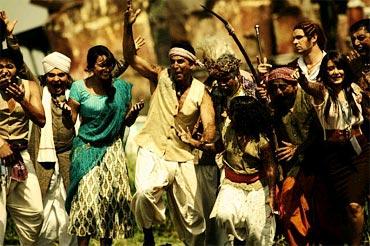 So the first look of
Joker
is finally out. Shirish Kunder's 3D directorial venture seems to have a rustic look, quite contrary to the reports of it being a sci-fi alien movie.
The first photograph of the movie shows Akshay Kumar and Sonakshi Sinha along with a bunch of other actors dancing in the mud.
Kumar dons an avatar we haven't seen him in for years now -- a dhoti-bundi while Sonakshi Sinha carries on her village belle look from
Dabangg
.
The other pretty face -- Minissha Lamba however has a western look. Rumour has it that she plays a journalist in the movie and like all onscreen scribes, she wears a huge badge (look carefully and you'll see) around her neck.
Then there's Asrani (next to Sonakshi)
and Shreyas Talpade at the absolute left hand side corner of the frame. On the other side there's comedian Sanjay Mishra (next to Akshay Kumar) and Vindoo Dara Singh in the right corner.
And while all these folks seem to be having fun -- apparently it's a 'mud dance' -- we can't exactly make out who the rest of the other folks in the frame are -- not because they're covered in mud becase they've been 'overshadowed' by the tall Akki!
We're intrigued to know who the person standing next to Vindoo is though. The guy looks like a cross between Wolverine and Mandrake the Magician.
Anyway, that is all that this picture seems to reveal. Though it is rumoured that Katrina Kaif will do an item song in the movie. Now that's something we'd like to see more of.
Bring it on Shirish!